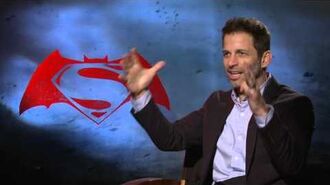 Zachary Edward "Zack" Snyder (born March 1, 1966) is an American film director, film producer, and screenwriter. He directed the films Man of Steel (2013), Batman v Superman: Dawn of Justice (2016), and Justice League (2017). Zack is also responsible for directing the Flash cameo scene in the 2016 film Suicide Squad.
Snyder also served as a producer on the 2017 film Wonder Woman, where he made a cameo appearance as a British Lewis gunner in World War I. Currently, he is also a producer on Wonder Woman 1984 (2020)
Due to the criticism of his films, Zack Snyder stepped away from the DCEU, not only because of the death of his daughter, but Warner Bros. confirmed that they have no plans for Zack Snyder to direct anymore DC Movies.
Zack's final DCEU film was indeed Justice League (2017)
Trivia
Gallery
Community content is available under
CC-BY-SA
unless otherwise noted.