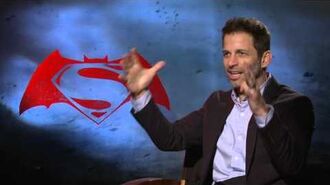 Zachary Edward "Zack" Snyder (born March 1, 1966) is an American film director, film producer, and screenwriter. He directed the films Man of Steel (2013), Batman v Superman: Dawn of Justice (2016), and Justice League (2017). Zack is also responsible for directing the Flash cameo scene in the 2016 film Suicide Squad. Snyder also served as a producer on Wonder Woman (2017) and on Aquaman (2018).
Snyder stepped away from the post-production of Justice League following the death of his daughter, and Joss Whedon handled reshoots that reshaped the film. Currently, he is unlikely to return in directing duties in the DCEU, but he is still a producer on Wonder Woman 1984 (2020) and The Suicide Squad (2021).
Snyder has also made two known cameo appearances in the DCEU: he voiced the man who says "Yeah, we got it" in the Knightmare sequence of Batman v Superman: Dawn of Justice, and he appeared as a World War I British soldier holding a Lewis gun in Wonder Woman.
Trivia
Gallery
Community content is available under
CC-BY-SA
unless otherwise noted.