Jurassic World: Dominion Dominates Fandom Wikis - The Loop
Play Sound
__

_
Film
|
Novelization
|
Soundtrack
|
Characters
|
Cast
|
Trivia
|
Gallery
"Nothing good is born from lies. And greatness is not what you think."
Wonder Woman 1984 (stylized as WW84) is a 2020 superhero film, based on the DC Comics superheroine of the same name.[3] Co-produced by Atlas Entertainment and The Stone Quarry and distributed by Warner Bros. Pictures, it is the ninth installment in the DC Extended Universe and a stand-alone sequel to 2017's Wonder Woman, taking place 66 years after the events of the previous film.
The film was originally scheduled for release on June 5, 2020,[4] however due to the COVID-19 pandemic it was initially delayed to August 14, 2020[5] before being delayed once again to December 25, 2020.[1] Wonder Woman 1984 marks the first time in the DCEU that a character has received a second solo film. It was released simultaneously in theaters and on HBO Max.[6]
The film was directed by Patty Jenkins from a screenplay by Jenkins, Geoff Johns, and Dave Callaham, and a story by Jenkins and Johns. It stars Gal Gadot as Diana Prince/Wonder Woman, Chris Pine as Steve Trevor, Kristen Wiig as Dr. Barbara Minerva/Cheetah, Pedro Pascal as Max Lord, Robin Wright as General Antiope, Connie Nielsen as Queen Hippolyta, Lilly Aspell as young Diana, Amr Waked as Emir Said Bin Abydos, Kristoffer Polaha as a handsome man, Natasha Rothwell as Dr. Carol Thomas, Ravi Patel as Frank Patel/Babajide and Oliver Cotton as Simon Stagg.
Synopsis
In 1984, Diana Prince struggles against two powerful enemies - Maxwell Lord and the Cheetah - whose ruthless ambitions threaten to destroy the world that she has sworn to protect.
Plot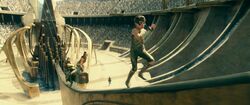 A young Diana Prince takes part in an athletic contest. While she takes the lead early on, she falls behind after falling off her horse. She takes a shortcut and is disqualified for cheating. Her mother and aunt teach her the importance of truth, citing the Golden Warrior Asteria as a role model to look up to.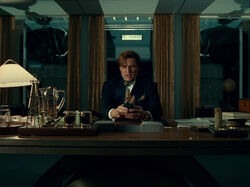 In 1984, Prince foils a heist involving a black market of stolen antiques at a shopping mall. The FBI turns to Dr. Barbara Minerva, an insecure woman who works with Prince at the Smithsonian National Museum of Natural History to identify the antiques involved, where she discovers the Dreamstone. Prince unwittingly wishes for Steve Trevor's return while Barbara wishes to be like Prince. Maxwell Lord, a failing businessman, covets the stone and offers a sizable donation to the Smithsonian. During a gala, he seduces Barbara to lend him the stone, which he uses to become the embodiment of the stone itself. Meanwhile, Prince's wish is granted as Steve's mind returns and takes over another man's body.
Lord confronts Simon Stagg the following day and coaxes him to wish that the former achieved success, which results in Lord's company finally succeeding. After Prince shows Steve around the new world, she confronts Minerva about the Dreamstone. Discovering she gave it to Lord, Prince and Steve break into Lord's office, discovering he flew to Cairo and pursue him. Lord escapes after Prince's powers begin to diminish. They investigate the stone further and discover that with every wish, something they value is taken away, and the only way to reverse the exchange is to renounce their wish.
Lord begins to grant wishes in exchange for whatever he takes. After an audience with the President of the United States, he discovers a satellite broadcast system and he takes it in exchange for more nuclear weapons. The Russians quickly discover this and declare a nuclear war against the United States. Prince and Trevor attempt to stop Lord once again but Minerva, who refuses to give up her powers, stops the two and lets Lord escape.
With threats of a nuclear war underway and Lord reaching absolute control, Trevor convinces Prince to renounce her wish, which she reluctantly does. With her powers fully restored, she dons the armor of Asteria and confronts Minerva, who has now become an "apex predator". After subduing Minerva, she confronts Lord, who has already begun granting wishes around the world. He manages to hold Prince off, but Prince uses the Lasso of Truth to convince the world to renounce their wishes. While distracted, Prince uses the lasso to show Lord a vision of his son amidst the chaos which he brought upon, which finally convinces Lord to renounce his wish and reunite with his son.
During the holidays, Prince encounters the man whose body Steve took over, complimenting an outfit which Steve himself rejected.
Afterwards, Asteria is revealed to be living among mankind in secret, just as Diana has been.
Cast
Appearances
Characters
Locations
Events
Items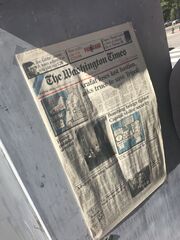 Vehicles
Nuestra Señora de Atocha (mentioned)
Marine One
Sentient species
Creatures
Organizations
Production
Production began on June 13, 2018, with Warner Bros. releasing a press release, with filming to take place in the US, UK, and Spain.[3] It has finished filming. This was announced on Instagram by Gal Gadot.
In October 2018, the film's release date was pushed back for a second time. It was scheduled to hit theaters on June 5, 2020. On March 24, 2020, Warner Bros. pushed back the release of Wonder Woman 1984 two months due to the ongoing COVID-19 pandemic. The sequel, which was set to bow in theaters in North America on June 5, would hit the big screen on August 14.[5] However, on June 12, 2020, it was announced that it's premiere had once again shifted; this time to October 2, 2020.[1] They once again changed it to Christmas Day which was the final premiere day.
Pre-production
Pre-production officially began in the United Kingdom by early December 2017.[7] That same month, director Patty Jenkins stated that the film would be another great love story with a new love interest being cast.[8] In April 2018, the film was confirmed to be set in the 1980s.[9] The next month, French production designer Aline Bonetto (Amélie, Wonder Woman) was announced to be returning for the sequel, as well as Academy Award winner Lindy Hemming, also returning as costume designer.[10]
Casting
In September 2017, Gal Gadot was confirmed to return as the title character.[11] On February 28, 2018, it was reported that Kristen Wiig was in talks with the studio to play Cheetah, the main villain of the film,[12] with director Patty Jenkins confirming her casting the next month.[13] By March 28, Pedro Pascal, who played Ed Indelicato in the pilot of the canceled 2011 Wonder Woman television adaptation, was cast in an undisclosed key role, which was later confirmed to be Maxwell Lord[14][15][16] On June 13, director Patty Jenkins confirmed the addition of Chris Pine as Steve Trevor through Twitter.[17] On July 24, 2018, Natasha Rothwell was announced to be cast in an undisclosed role, later confirmed to be Carol Thomas.[18] A few days later, on July 27, Ravi Patel and Gabriella Wilde also joined the film as Babajide and Raquel.[19] By late August, Connie Nielsen and Robin Wright were confirmed to reprise their roles as Hippolyta and Antiope in a flashback sequence.[20] In November 2018, Kristoffer Polaha revealed that he has a role in the film.[21] On November 16, 2019, Amr Waked had announced on his Twitter account that he will be in the film as Emir Said Bin Abydos.[22][23]
Filming
Principal photography began in Georgetown on June 13, 2018, under the working title Magic Hour.[24][25][26] Filming took place at the Warner Bros. Studios, Leavesden in the United Kingdom, and at a number of locations around the District of Columbia and Northern Virginia in the United States, including the Landmark Mall in Alexandria, Virginia during June and July 2018,[27][28][29] with scenes shot in Alexandria from June 18 through July 14.[30] Filming occurred outside the U.S. Capitol in Washington D.C. during mid-June.[31] Other filming locations around DC included the Penn Quarter neighborhood, McPherson Square, the DAR Constitution Hall near the White House, the Museum of Natural History (Smithsonian), and the Lincoln Memorial.[32] The WW84 production also closed down Pennsylvania Avenue for filming.[33][34][35] By mid-July, production in the United States was completed and moved to the United Kingdom.[36] In August, filming on location took place in several places around London, including St. Andrew's Place, Regent's Park and the Royal College of Physicians.[37][38] Between September and October 2018, the production also took place at Almería, in Andalucía, southern Spain,[39][40] as well as Fuerteventura and Tenerife in the Canary Islands.[41][42] From September 5 to September 11, filming occurred at the fortified complex The Alcazaba of Almería and the Wall of Jayran in Almeria.[43] Production moved to Fuerteventura from September 13 through September 26, with the Corralejo Dunes National Park, Parque Holandés, El Jablito, La Oliva and The Jandía Natural Park as filming locations.[44][45] Filming in Tenerife began during the last week of September, shooting around different locations of the island for 2 weeks.[46][47] Production went back to the UK in October, with shooting on location taking place at the Imperial War Museum Duxford|Imperial War Museum in Duxford, and Hyde Park and the Savoy Hotel in Central London.[48] By the end of the month, filming occurred at Torrington Square, adjacent to Birkbeck, University of London.[49] By mid-November 2018, Pedro Pascal finished filming his part.[50] Principal photography wrapped on December 22, 2018, after a six-month shoot.[51][52]
Post-production
Richard Pearson served as the editor for Wonder Woman 1984.[24] John Moffatt (Life and the Harry Potter franchise) served as the overall visual effects supervisor for the film.[53] DNEG provided the visual effects for the film.[54] On October 21, 2019, director Patty Jenkins tweeted that the first trailer for Wonder Woman 1984 would premiere at CCXP in Brazil on December 9, 2019.[55] The second official trailer debuted at DCFandome on August 22, 2020.[56] Then on August 26, 2020, Microsoft unveiled a trio of customized WW1984 Xbox One X consoles inspired by the powerful leading ladies of Wonder Woman 1984.[57]
On August 31, 2020, it was revealed that Wonder Woman 1984 was rated the film 12+ in South Korea, pointing to the likelihood that WW84 will have a PG-13 rating overseas. It also confirmed that the film will have a runtime of 150 minutes according to the Korea Media Rating Board.[58]
On October 21, 2020, it was reported that despite Wonder Woman 1984 still slated to premiere on December 25, 2020, but that Warner Bros. will ultimately make a final decision within the coming weeks about the film keeping its current release date, or being shifted to 2021.[59]
However, on November 2, 2020, it is now being reported that another date change is likely because movie theaters in New York City and Los Angeles remain closed, and even worse, Western Europe — meaning UK, Germany, France, Italy, and Spain are also largely closed down. The UK in particular recently going into a second lockdown due to the Covid-19 Pandemic. As a result, a meeting is underway with studio brass who are deciding what will happen next.[60]
On November 12, 2020, news broke that a decision from Warner Bros. on Wonder Woman 1984's Christmas Day theatrical release date is imminent. It will allegedly come either on Friday November 13, 2020 or by Monday November 16, 2020 at the latest. Some choices being thrown around are either a shortened theatrical window with PVOD thereafter for WW1984, much like the titles Universal is putting into cinemas now. Or have it be delayed into June 2021 instead.[61]
On November 21, 2020, it was revealed that 'Wonder Woman 1984' is set to debut in China a week before its US release on December 18,2020 before it makes debuts in select theaters and on HBO Max Christmas Day 2020.[62]
On December 1, 2020, WarnerMedia announced that Wonder Woman 1984 would stream on HBO Max in 4K. The film will also support (depending on what the viewer's setup is capable of) Dolby Vision, Dolby Atmos, and HDR10. In addition, the 4K stream will also be available on Apple TV 4K, Amazon Fire TV Stick 4K, Amazon Fire TV Cube / 4K Fire TV Edition smart TVs, Chromecast Ultra, AT&T TV, and supported Android TV devices respectively.[63]
On December 9, 2020, it was revealed that Wonder Woman 1984 does have a post-credits scene, but that it wasn't included in the early press screeners.[64]
On December 10,2020, details on the Wonder Woman 1984 Soundtrack were revealed, such as the film's original music composed by Hans Zimmer. A first track titled "Themyscira" was released during the summer of 2020 and a second track titled "Open Road" was released on this day. In addition, one could go to Amazon to pre-order the soundtrack, which was released digitally and physically on December 16,2020 by WaterTower Music.[65]
On December 15, 2020 a Virtual Premiere Party for the film took place at DC Fandome. A behind the scenes video along with the opening scene of the film were shown. In addition, there was a Q & A where fans got to ask Patty, Gal, Chris, Kristen and Pedro some questions.[66]
As of December 17, 2020, Wonder Woman 1984 is revealed to be officially certified 89% fresh on Rotten Tomatoes.[67]
On December 19,2020, Warner Bros outlined its plans for the online component of its Wonder Woman 1984 release in the UK. The film entered cinemas in the country on Wednesday December, 16,2020 but only roughly a quarter of venues were open at the time due to lockdown restrictions.The studio further confirmed that the film will receive its PVOD release on January 13,2021 after a four-week theatrical run, and will continue to be available for cinemas to program after that date. There's no HBO Max in the UK so instead WB will be putting the film out through a number of digital retailers, though a representative declined to specify precisely which ones.[68]
On December 21, 2020, Wonder Woman 1984 opened in 32 international box office markets to an estimated $38.5M from 30,221 screens. This was well below the $60M the industry was expecting ahead of the launch, and is largely down to a soft China debut of $18.8M in what was a slow Middle Kingdom moviegoing weekend overall. There were also sudden market closures over the past several days overseas which did not help the film with their box office revenue. Then in IMAX, the Gal Gadot-starrer grossed $5M from 31 markets. Of that, $3.8M came from 680 screens in China. IMAX is also citing standout performances in Japan, Taiwan, Saudi Arabia, Singapore, Thailand, UAE and Ukraine. Overall it was reported that behind China, the best opening markets for the film were Taiwan with $3.6M from 296 screens, Thailand with $2M from 602 screens, Brazil with $1.7M from 1,812 screens, Japan with $1.6M from 736 screens, Mexico with $1.6M from 2,969 screens, Singapore with $1.3M from 132 screens, UK with $2M from 615, Spain with $1.1M from 813 screens, UAE with $1M from 200 screens, Saudi Arabia with $1M from 150 screens and lastly Vietnam with $832K from 660 screens.[69]
On December 28, 2020, it was reported that the film earned just $1.5 million over the weekend, according to Artisan Gateway, a Chinese film consulting firm. It's a 92% decline from its debut weekend in China when it earned a disappointing $18 million. In spite of the COVID-19 pandemic however and most theaters being closed, the film has managed to grossed $85 million globally so far.[70]
Videos
Music
References

External links