This page covers the canceled, converted, delayed, and projects with unconfirmed canonicity to the DCEU.
Canceled projects
These are projects that went into development for the DCEU, but have since been canceled.
Harley Quinn vs The Joker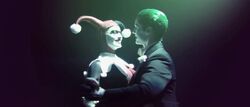 Harley Quinn vs The Joker was announced in July 2017, and likely would have included elements that were eventually used in Birds of Prey (And the Fantabulous Emancipation of One Harley Quinn), which lightly covered the breakup between the two. Glenn Ficarra and John Requa wrote the script and were set to go into production as the directors of the film after Birds of Prey's release, but by February 2019 the project had been canceled.[1]
Joker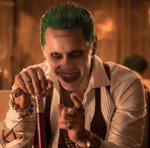 A movie following Jared Leto's Joker was announced in June 2018, but like Harley Quinn vs The Joker, it was revealed to have been canceled by February 2019. This is likely due, at least in part, to Todd Phillips' Joker project starring Joaquin Phoenix as the titular character without any ties to the DCEU which came out later that year.[1]
Green Lantern Corps was announced in October 2014, and very few updates have been made public since then. Geoff Johns had a script due by the end of 2019, but in April 2020 the project was reportedly no longer in production. Instead, Johns will be working on a live action Green Lantern series for HBO Max. Whether this series is a DCEU replacement for the theatrical movie remains to be seen, but it certainly looks like the film is no longer in the works as previously planned.
Zack Snyder's Justice League saga
DCEU architect Zack Snyder envisioned a five film saga for the Justice League films, comprised of Man of Steel, Batman v Superman: Dawn of Justice, Justice League, Justice League: Part 2, and Justice League: Part 3. This saga would have followed the formation of the Justice League, the continued expansion of the DC Extended Universe, and the continuing battle against Darkseid and the various forces of Apokolips. There was a plan to release Justice League: Part 2 on July 12, 2019, but that did not come to fruition due to the box office disappointment of Justice League. It is possible that Snyder's original vision could still be made if Zack Snyder's Justice League is successful on HBO Max, but nothing has been announced at this point, rendering the possibility to only be supported by Warner Bros. and Warner Max's histories with releases and sequels.
Delayed projects
These are projects that at one point were in development for the DCEU, but have since been put on hold or otherwise delayed, but not outright cancelled.
Lobo
In September 2009, Warner Bros. announced that a film centered around Lobo was in development. The film underwent direction by Guy Ritchie, followed by Brad Peyton at different stages in the project's progression.[2][3] In 2016, after various iterations, Jason Fuchs was hired as screenwriter.[4] By February 2018, it was announced that Warner Bros. was courting Michael Bay to direct the film. Fuchs at that point was rewriting the script, as Bay advised some changes so that the budget can be lowered considerably.[5] Nothing has been said about the project since, so it's safe to say the project is on hold or is cancelled.
Cyborg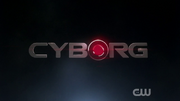 In April 2014, Ray Fisher was cast as Victor Stone / Cyborg in the upcoming film Batman v Superman: Dawn of Justice. In October 2014, Warner Bros. announced that Fisher would star in his own solo film, Cyborg, as part of the original slate of the DC Extended Universe, with a scheduled release date of April 3, 2020. By August 2017, Joe Morton was set to reprise his role as Silas Stone from Batman v Superman: Dawn of Justice and Justice League. That November, Fisher stated that the cast and production team for his film would be diverse. In August 2018, Morton expressed that he believed scenes involving Silas and Victor Stone that were cut from the theatrical cut of Justice League would be reworked into Cyborg, but said he did not know when production would begin. Around the same time, Fisher expressed interest in Snyder directing the film. By December 2018, the film had officially been delayed. In April 2020, Fisher confirmed that the project was still in development, though it remains on hold.
Man of Steel followup
Despite many believing a new Superman movie has been announced, these are rumors that haven't been confirmed. There is no news of an official second Superman solo film in development, although it has been rumored that Superman actor Henry Cavill recently signed a new three-film contract for the role, so the possibility of an MoS sequel still stands.
Gotham City Sirens
A film featuring the supervillain team, the Gotham City Sirens, was announced in May 2016. The announcement was followed by the news that David Ayer would be directing with a script completed by Geneva Robertson-Dworet in December. Then in August of the next year, it was confirmed that Jared Leto would reprise his role as the Joker. Another year later work was reportedly on hold to focus on Birds of Prey, but that the project wouldn't be canceled. It seems Gotham City Sirens may have lost its antagonist to Birds of Prey, though this isn't officially confirmed. In April 2020 Cathy Yan stated she was plotting a Birds of Prey sequel featuring Harley Quinn and Poison Ivy (two of the three prominent members of the Gotham City Sirens), however no official announcement has been made about a new project, nor whether it might set up the Gotham City Sirens or replace the previous film plans.
Deadshot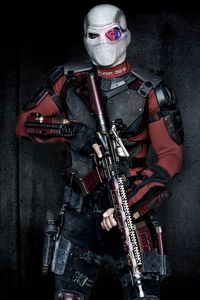 In December 2016, The Hollywood Reporter noted that a film centered around Floyd Lawton / Deadshot starring Will Smith was in development after the character's debut in Suicide Squad. Nearly two years later in September 2018, Will Smith confirmed he would reprise his role from the film and that the story was in development.[6] In February 2019, it was reported by Variety that Will Smith would not return for James Gunn's The Suicide Squad due to scheduling conflicts. A month later, The Hollywood Reporter reported that Idris Elba had joined the project and was in talks to replace Will Smith as Deadshot, though plans changed and Gunn decided to move away from the character, with Elba instead playing a different character in the film. The report cited the reason for this being that Gunn and his team did not want to disrepect Smith's portrayal from Suicide Squad by recasting the character, leaving the door open for Smith to reprise the role in the future, though no plans have materialized for a return since then and the status of Deadshot's solo film is still up in the air.[7]
Deathstroke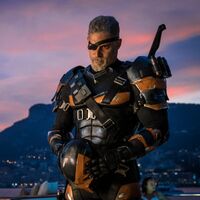 In October 2017, a film centered around Slade Wilson / Deathstroke was in development, with Gareth Evans attached as screenwriter and director and Joe Manganiello set to reprise his role from Justice League. Later that month, Warner Bros. greenlit the film after Evans impressed executives with his story pitch, which he described as dark and unforgiving, similar to Korean noir films.[8] However, over a year later in October 2018, Evans stated that he was yet to be attached to the project contractually.[9] In April 2020, Evans announced that the project had been delayed, and that he was no longer actively involved with its development. The filmmaker revealed that the story that was developed was intended to be an origin story.[10]
Supergirl
On August 6, 2018, it was announced that Oren Uziel had been hired to write the screenplay for a Supergirl film.[11] Soon after, it was reported that Warner Bros. wanted a female director to direct the film, following a trend at DC to hire more female directors for their film projects going forward,[12] and then in September 2018, CBR reported that the film would be an origin story set in the 1970s, but that the time period could change as the project develops.[13] On May 6, 2020, it was reported by Screen Rant that the film had been put "on hold", most likely due to the ongoing COVID-19 pandemic.
Converted projects
The following were almost part of the DCEU, but were later converted into separate projects.
Green Lantern
The 2011 film starring Ryan Reynolds was intended to launch DC's cinematic universe, but poor reception caused Warner Bros to put some distance between it and Man of Steel, instead allowing the latter to be the first entry into the DCEU. Man of Steel, a Green Lantern sequel, and a Flash film were all underway at the time, all intended to connect to a greater universe, but the Green Lantern sequel was cancelled and the Flash project entered development hell, where it remained for an entire decade.[14]
Krypton
Krypton was a Syfy network, live-action television series developed by David S. Goyer (who also wrote Man of Steel), running for two seasons from 2018. There is evidence Goyer originally started producing the series as a prequel to Man of Steel, but along the way it was separated from the existing universe. There isn't anything conclusive, but there are a number of interviews wherein Goyer speaks of Krypton as a continuation of his work on Man of Steel, confirming such details as the events of Krypton taking place 200 years before those of Man of Steel.[15]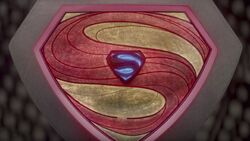 Krypton largely maintains a similar aesthetic for the planet as Man of Steel's Krypton, as well as shared technology that differs from more traditional depictions of Krypton. The command keys used in both series are the same size and shape, and used the same way. While the two versions initially appeared to use the same metallic material in early promotional content for the series, Krypton later changed its command key to a translucent blue material, perhaps to separate the two. There are articles confirming the early promotional material also shared the Man of Steel logo, though both the command key and logo have since been removed and replaced with the slightly different versions that can be seen in the trailers that remain available. Krypton also carried over the use of genesis chambers from Man of Steel, which introduced them to Superman lore.
The Ayer cut of Suicide Squad, sometimes referred to as David Ayer's Suicide Squad due to its production parallels with Zack Snyder's Justice League (and lack of an official name for itself), is an alternate cut of the film, edited directly by David Ayer. The theatrical version was put together with parts of Ayer's film, as well as parts over which Ayer confirms he didn't have control. The only major difference is Joker's presence during the final battle, with most changes setting the tone and feel apart from the theatrical version. There are no official plans to release the Ayer cut, but fans remain hopeful, especially since Ayer's confirmation that the remaining work is mostly VFX, making the project a viable possibility for a release on HBO Max.[16]
The Batman
Set to release in 2021, The Batman is a project that went through a great many changes during its production, ultimately becoming an entirely different project than originally intended. The original project was to be directed by and star Ben Affleck, featuring Deathstroke as the primary villain, but due to various studio changes Ben Affleck left the project. Matt Reeves was pulled in to direct the movie, and wrote a new story, set in a different point of Batman's career with a different set of villains. While the original project was confirmed to be intended for the DCEU in 2017, the new project was finally confirmed to be the start of a new universe in July 2020.[17]
Having split from the DCEU, The Batman content has been separated into its own wiki at The Batman Universe.
Previously converted projects
These are projects that had previously been converted into something else, but were reinstated, resulting in two projects.
Unconfirmed canon
The projects contained here are those whose canon is currently unknown, but may be part of the DCEU.
Nightwing
In February 2017, The Hollywood Reporter announced that Chris McKay had been in negotiations with WB to direct a solo Nightwing film, with Bill Dubuque (The Accountant) writing the script. In the article, it was said that the film "joins Warner Bros.' growing DC Extended Universe as the studio focuses on mining some of DC's most beloved characters for new films." McKay had directed The Lego Batman Movie, which had been released less than two weeks prior to the announcement and featured Dick Grayson's Robin, voiced by Michael Cera. From this, many believed that the film would feature the character of Dick Grayson, the original Robin from the comics that later took the alias of Nightwing. However, this would contradict established canon as in Batman v Superman: Dawn of Justice, the suit of the dead Dick Grayson is shown after having been killed by Joker and Harley Quinn years before the events of the film.
News about the film was very quiet for almost two years, with the failure of Justice League and the reshaping of DC Films having happened in between. In late October 2018, Chris McKay replied to a tweet suggesting that the Nightwing movie was no more, to which he replied: "No. You're going to have to wait tho. Keep hope alive. To paraphrase Dick Grayson: Nightwing lives. Always."[18] With films like Joker and The Batman establishing a new Multiverse strategy rather than focusing on a single, contained continuity, it is currently unknown where Nightwing stands or if the film will be released anytime soon.
Batgirl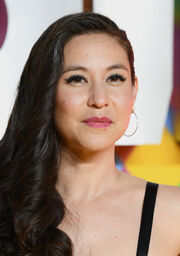 In March 2017, just months before he would direct the reshoots of Justice League in July after Zack Snyder's departure in May, Variety reported that Joss Whedon was nearing a deal to write, direct, and produce a Batgirl film for Warner Bros., which would have assumedly been part of the DCEU.[19] After less than a year, it was reported in February 2018 that Whedon had exited the project, with Whedon saying the reason for this was that he had failed to come up with a story.[20] In April 2018, it was reported that Batgirl had been revived, with a new script by Bumblebee writer Christina Hodson.[21] In December, Hodson confirmed this to be true when she was asked about the film's release and development, saying "[That's] above my paygrade. Not something I can speak to. But, yeah, I'm loving writing it; I can say that. It's a total joy to work on. I love the character. And every day I'm finding new things to love and get excited about."[22] With a whole new writer, no news in years, the introduction of the multiverse, as well as Barbara Gordon not existing in the current DCEU, it is unclear where this project stands in continuity.
Blue Beetle
In December 2018, The Wrap reported that DC and Warner Bros. were developing a Blue Beetle film, which would be the first feature film based on a Latino superhero. Mexican-born screenwriter Gareth Dunnet-Alcocer was tapped to write the screenplay, with Zev Foreman as executive producer.[23] There has not been any news from the project since, so it is unsure if the film is still happening, or if it has any connections to the DCEU.
Plastic Man
On December 7, 2018, The Hollywood Reporter revealed that an action-adventure film based on Plastic Man was being produced, with writer Amanda Idoko attached to pen the script, and Bob Shaye as the film's executive producer. At the time, the project was in its early stages, and the film hadn't yet begun to find a director.[24] With no plot details and an unsure production status, it is not known if the film will be part of the DCEU. It's also unknown if the film is even in development or not.
Blackhawk
In April 2018 it was announced that Steven Spielberg would be producing a film based the character Blackhawk. It's unknown if there's any intention to include it in the existing canon, and it'll be a while before more information comes out, as Spielberg won't begin work on the project until after Indiana Jones 5. David Koepp is set to write.[25]
Saïd Taghmaoui posted a photo of himself next to the titular character about a year and a half later, but there was never any confirmation that he'd been cast, nor was there any other follow-up information.
Aquaman: King of Atlantis
After the success of Aquaman, HBO Max announced it had accepted James Wan's pitch for a three-episode, animated miniseries to be developed for their platform. The series will start with Aquaman's first day as King of Atlantis, and will follow three independent stories, each with its own episode. The official synopsis is as follows:
"The series begins with Aquaman's first day on the job as king of Atlantis and he's got a lot of catching up to do. Luckily, he has his two royal advisors to back him up – Vulko, the scholar, and Mera, the water controlling warrior-princess. Between dealing with unscrupulous surface dwellers, elder evils from beyond time and his own half-brother who wants to overthrow him, Aquaman is going to have to rise to the challenge and prove to his subjects, and to himself, that he's the right man for the trident!"
While the project has yet to be confirmed to take place in the DCEU, James Wan's involvement, the timing of the announcement, as well as the time frame of the story all strongly suggest the series will act as connective tissue between Aquaman and its theatrical followup.[26]
Aquaman: King of Altantis will be released on HBO Max sometime in 2021.[27]
Green Lantern (series)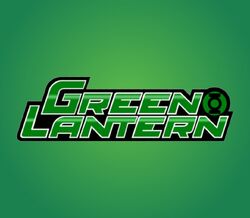 A live action series based on the Green Lanterns is being produced for HBO Max . Canonicity to the DCEU has not been confirmed, however this project likely took the place of the theatrical DCEU project, Green Lantern Corps. Geoff Johns had a script for the film due by the end of 2019, but in April 2020 it had been revealed that he was producing the series for HBO Max, indicating a change of plans. Attempts have been made to remove connections to the CW's Arrowverse by marketing, but this could simply be to entice those who are less interested in the lower-budget nature of the CW, rather than direct confirmation that it doesn't take place in the Arrowverse. The series is set to release in 2021.[27]
In October 2020, Seth Grahame-Smith (who was previously to be one of the writers and directors of The Flash) was revealed to be the showrunner for the project and Geoff Johns' name disappeared. The series was confirmed to be ten episodes in length, written by Grahame-Smith and Marc Guggenheim, and produced by Berlanti Productions. Characters confirmed to appear include Guy Gardner, Jessica Cruz, Simon Baz, Alan Scott, Sinestro, and Kilowog.[28]
Justice League Dark
Guillermo del Toro had been hired to direct an adaptation of DC's Dark Universe for Warner Bros. He had a story completed and waited for the go-ahead from Warner Bros. for a while,[29] but in late June 2015, he pulled out of the film.[30] Scott Rudin was reported to take over on October 8, 2015,[31] and then in August 2016 that Doug Liman would direct.[32] He, like the others, stepped down as a director due to scheduling conflicts. [33] In August 2017, it was announced that Gerard Johnstone would polish the script as WB continued to search for directors. [34]
In April 2020, it was revealed that J.J. Abram's production company, Bad Robot, would be producing a live action series based on Justice League Dark characters. Bad Robot would be producing a Justice League Dark universe with the intention of producing for film and television, which leaves little room for a separate film. The series is scheduled for release in 2021, and it's currently unknown if this will be a new sector of the DCEU or a new universe unto itself. [27]
References
Community content is available under
CC-BY-SA
unless otherwise noted.