__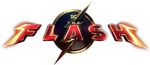 _
Film
|
Soundtrack
|
Characters
|
Cast
|
Gallery
The Flash is an upcoming 2022 superhero film based on the DC Comics character of the same name. It will be the twelfth installment in the DC Extended Universe, and it is scheduled for release on November 4, 2022.[4]
Synopsis
"Ride ain't over yet!"
―Cyborg


---

This article section is incomplete and requires expansion.
Plot
"Ride ain't over yet!"
―Cyborg


---

This article section is incomplete and requires expansion.
Cast
Appearances
Locations
Events
Items
Vehicles
To be added
Sentient Species
Creatures
To be added
Organizations
Mentioned
To be added
Production
Development
On June 9, 2010, Green Lantern and Arrow writers Greg Berlanti, Michael Green, and Marc Guggenheim were hired to pen a treatment of the film. The Flash script will be based on the recent run by DC's Chief Creative Officer Geoff Johns, and will feature Barry Allen as the first film incarnation of the Flash.[13]
In June 2014 it was hinted that the film would release in late 2017 and would be a team-up film also including Green Lantern.[14]
On October 5, 2015, it was reported that Seth Grahame-Smith is in negotiations to direct the film.[15] However, on April 29th, 2016, it was announced that Grahame-Smith had exited the project due to creative differences.[16] Rick Famuyiwa was reported in June 2016 to direct the film.[17] Filming will start in January 2017 in London, England.[18] On October 31, 2016, The Hollywood Reporter has reported that Famuyiwa has left the film due to creative differences.[19] Other choices for directors included Robert Zemeckis, Matthew Vaughn, Sam Raimi, or Marc Webb, with Zemeckis and Vaughn as frontrunners. On January 25, 2017, Variety reported that Joby Harold will rewrite the script for the film.[20] At 2017 San Diego Comic Con, it was revealed that the film will adapt the "Flashpoint" storyline and it will also be titled "Flashpoint".[21] However, this title was later reportedly changed.[22] On 28 Feb 2019, Deadline Hollywood reported that the directors will also write the script. [23] On March 15, 2019, Ezra Miller and Grant Morrison were reported to be writing the film's script.[24], In July 2019, director Andy Muschietti is in talks to direct the film with Christina Hodson writing the film, after Jonathan Goldstein and John Francis Daley left the project.[25] Muschietti was confirmed as director and Hodson as screenwriter.
Casting
On October 15, 2014, it was announced that Ezra Miller would play the title role in the film and both upcoming Justice League films.[26] In July 2016, Variety reported that Kiersey Clemons was director's top choice for the female lead role in the film,[27] while The Hollywood Reporter's Borys Kit revealed that Rita Ora and Lucy Boynton were also among the list of top-runner actresses.[28] Clemons was eventually confirmed to star as the female lead, Iris West.[29]In August, actor Ray Fisher was confirmed to appear in the film.[30] In September, Billy Crudup was revealed to be in talks to portray Barry Allen's father in the film.[31] On June 22, 2020, The Wrap broke the news that Michael Keaton was negotiating to appear as his Bruce Wayne from the Tim Burton films.[32] The same day, The Hollywood Reporter reported that Keaton was in talks to portray Batman in a multi-picture deal as new mentor character for the DC Films.[33]
Filming
The Flash principal photography was scheduled to begin in February 2019, with filming taking place at Warner Bros. Studios, Leavesden in the United Kingdom, and Atlanta, Georgia in the United States,[34] but the start of principal photography has been pushed back and is expected to start in late 2019, with a 2021 release date.[35] After numerous delays to the release date, the beginning of principal photography was rescheduled to March 2021 in September 2020.[36] However these plans were possibly changed together with the release date.
Release
The Flash was originally scheduled to be released in the United States on March 23, 2018.[37] It was later advanced to March 16, 2018,[38] which was eventually given to Tomb Raider.[39] The project was put on hold after the departure of Famuyiwa, and is now currently projected for a 2021 release.[40] On December 11, 2019, the film was scheduled to be released on July 1, 2022.[41] On April 20, 2020, the film was pushed forward to June 3, 2022 as a result of the COVID-19 coronavirus pandemic.[42] On October 5, 2020, the film was pushed back to November 4, 2022.[4]
References
External links
Community content is available under
CC-BY-SA
unless otherwise noted.