Jurassic World: Dominion Dominates Fandom Wikis - The Loop
Play Sound
__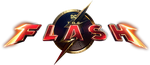 _
Film
|
Comic
|
Soundtrack
|
Characters
|
Cast
|
Gallery
"Tell me something. You can go anywhere you want, right? Any timeline? Any universe? Why do you wanna stay and fight to save this one?"
―Batman to Barry Allen
The Flash is an upcoming superhero film based on the DC Comics superhero of the same name. Co-produced by DC Films, Double Dream, and The Disco Factory and distributed by Warner Bros. Pictures, it will be the fourteenth installment in the DC Extended Universe, and is scheduled to be released on June 23, 2023.[4]
Directed by Andy Muschietti from a screenplay by Christina Hodson and screen story by John Francis Daley, Jonathan Goldstein, and Joby Harold, the film will star Ezra Miller as Barry Allen / Flash, alongside Kiersey Clemons as Iris West, Michael Keaton as Batman from Earth-89, Ben Affleck as Bruce Wayne / Batman, Sasha Calle as Supergirl, Maribel Verdú as Nora Allen, Ron Livingston as Henry Allen and Michael Shannon as General Dru-Zod. Additionally, Saoirse-Monica Jackson, Rudy Mancuso, Luke Brandon Field, Antje Traue, and Temuera Morrison have been cast in undisclosed roles.
Synopsis
Barry Allen travels back in time to prevent his mother's murder, which brings unintentional consequences to his timeline.
Plot
To be added
Cast
Appearances
Characters
Locations
Events
Items
Vehicles
Sentient species
Creatures
To be added
Organizations
Production
Development
In 2006, Warner Bros. gave first pick to David S. Goyer to write for a DC film based on a character of his choice. Goyer selected The Flash and began to attempt writing a version for the screen.[19]
In June 2010, Warner Bros. hired Green Lantern and Arrow writers Greg Berlanti, Michael Green, and Marc Guggenheim to pen a treatment of the film. The script for The Flash would be based on the recent run by DC's Chief Creative Officer Geoff Johns, and would feature Barry Allen as the first film incarnation of the Flash.[20]
In June 2014, it was rumored that the film would release Christmas 2017 following Justice League and Wonder Woman, and that it would be a team-up film uniting Flash with Green Lantern, the later character not being portrayed by Ryan Reynolds.[21]
On October 5, 2015, it was reported that Seth Grahame-Smith was in negotiations to direct the film.[22] However, on April 29, 2016, it was announced that Grahame-Smith had exited the project due to creative differences. The project would reportedly retain Grahame-Smith's script, which he wrote working off of a treatment from Phil Lord and Christopher Miller.[23]
In June 2016, it was announced that Dope director Rick Famuyiwa had been hired to direct the film, replacing Seth Grahame-Smith. The studio believed Famuyiwa provided a vision for The Flash that would resonate with young viewers, and also was compatible with the already existing script by Grahame-Smith that Warner Bros. intended to shoot with.[24] It was reported in August that The Flash would begin filming in London, England in January 2017.[25]
On October 31, 2016, The Hollywood Reporter reported that Famuyiwa had left the film due to creative differences. Sources claimed that Famuyiwa intended to make a film with more edge, which clashed with the studio's ideas.[26] Other choices for directors included Robert Zemeckis, Matthew Vaughn, Sam Raimi, or Marc Webb, with Zemeckis and Vaughn as frontrunners. On January 25, 2017, Variety reported that Joby Harold will rewrite the script for the film.[27] At 2017 San Diego Comic Con, it was revealed that the film would adapt the "Flashpoint" storyline and would also be titled Flashpoint.[28]
In January 2018, filmmaking duo John Francis Daley and Jonathan Goldstein entered negotiations to write and direct the film.[29] Warner Bros. also had discussions with Ben Affleck to direct, but Affleck passed on the project and one of the studio's top picks, Robert Zemeckis, was not available due to a busy schedule. Daley and Goldstein were confirmed as directors in March 2018, and in April the film's title reverted back to The Flash.[30] On February 28, 2019, Deadline Hollywood reported that the directors will also write the script.[31] On March 15, 2019, Ezra Miller and Grant Morrison were reported to be writing the film's script.,[32]
In July 2019, director Andy Muschietti was reportedly in talks to direct the film with Christina Hodson writing, after Jonathan Goldstein and John Francis Daley left the project.[33] Muschietti was confirmed as director and Hodson as screenwriter.
Casting
On October 15, 2014, it was announced that Ezra Miller would play the title role in the film and both upcoming Justice League films.[5]
In July 2016, Variety reported that Kiersey Clemons was director's top choice for the female lead role in the film,[34] while The Hollywood Reporter's Borys Kit revealed that Rita Ora and Lucy Boynton were also among the list of top-runner actresses.[35]
In August of the same year, actor Ray Fisher was confirmed to appear in the film[36], but later resigned from the film after an ongoing battle with Warner Bros.
On June 22, 2020, The Wrap broke the news that Michael Keaton was negotiating to appear as his Bruce Wayne from the Tim Burton films.[37] The same day, The Hollywood Reporter reported that Keaton was in talks to portray Batman in a multi-picture deal as a new mentor character for the DC Films.[38] On August 20, 2020, Michael Keaton was confirmed to appear along with Ben Affleck who will reprise his role as Batman in the film.[8]
In September of 2020, Billy Crudup was revealed to be in talks to portray Barry Allen's father in the film.[39]
On February 19, 2021, Muschietti announced on his Instagram page that Sasha Calle had joined the cast of the film as Supergirl.[9]
On March 12, 2021, The Hollywood Reporter reported that Maribel Verdu had joined the cast of the film as Nora Allen, while Billy Crudup who was set to play Henry Allen, had dropped out of the project due to scheduling conflicts.[10] Kiersey Clemons, a previous frontrunner for the female lead, was confirmed to star as Iris West.[7]
On March 22, 2021, Variety reported Keaton as having doubts about committing to the project, citing possible scheduling conflicts and problems posed by the COVID-19 pandemic.[40]
On March 24, 2021, Variety reported that Ron Livingston was cast as Henry Allen after Crudup dropped out. Additionally Ian Loh joined the cast to portray a young Barry Allen, along with Saoirse-Monica Jackson and Rudy Mancuso in talks to join the film.[6]
On April 19, 2021, The Wrap reported that Michael Keaton's talent agency, ICM Partners, had confirmed the actor's return for the film.[41]
Filming
The Flash principal photography was scheduled to begin in February 2019, with filming taking place at Warner Bros. Studios, Leavesden in the United Kingdom, and Atlanta, Georgia in the United States,[42] but the start of principal photography has been pushed back and is expected to start in late 2019, with a 2021 release date.[43] After numerous delays to the release date, the beginning of principal photography was rescheduled to March 2021 in September 2020.[44] However these plans were possibly changed together with the release date. On April 16, 2021, Deadline reported that production would begin in London.[45] On April 19, 2021, Andy Muschietti revealed a new logo for the film, and confirmed that filming had begun. [46], On August 18, 2021, Michael Keaton confirmed he has wrapped filming on his scenes. On October 8, 2021, filming officially wrapped.[47]
Music
On April 19, 2021, Benjamin Wallfisch was announced to score The Flash. Wallfisch previously was an assistant to Hans Zimmer for Man of Steel and Batman v Superman: Dawn of Justice before making his solo debut for Shazam!.
Release
The Flash was originally scheduled to be released in the United States on March 23, 2018.[48] It was later advanced to March 16, 2018,[49] which was eventually given to Tomb Raider.[50] The project was put on hold after the departure of Famuyiwa, and is now currently projected for a 2021 release.[43] On December 11, 2019, the film was scheduled to be released on July 1, 2022.[51] On April 20, 2020, the film was pushed forward to June 3, 2022 as a result of the COVID-19 pandemic.[52] On October 5, 2020, the film was pushed back to November 4, 2022.[4] On March 9, 2022, the film was pushed back once more to June 23, 2023. Warner Bros has clarified that VFX/CGI issues and the COVID-19 Pandemic was the cause of the pushback.[53]
Trivia
This will be the first DC live action movie to feature multiple versions of Batman in the same movie - Affleck and Keaton both playing the role.
References

External links