Suicide Squad: Official Trailer
Play Sound
__

_
Film
|
Novelization
|
Soundtrack
(
Collector's Edition
) |
Score
|
Characters
|
Cast
|
Gallery
"I wanna build a team of some very bad people, who I think can do some good."
―Amanda Waller
Suicide Squad is a 2016 superhero film based on the DC Comics super villain team of the same name. Produced by RatPac-Dune Entertainment, DC Films, and Atlas Entertainment and distributed by Warner Bros. Pictures, it is the third installment in the DC Extended Universe. It was released on August 5, 2016.
The film is written and directed by David Ayer and stars Will Smith as Floyd Lawton/Deadshot, Jared Leto as Joker, Margot Robbie as Harleen Quinzel/Harley Quinn, Joel Kinnaman as Rick Flag, Viola Davis as Amanda Waller, Jai Courtney as Digger Harkness/Captain Boomerang, Jay Hernandez as Chato Santana/El Diablo, Adewale Akinnuoye-Agbaje as Waylon Jones/Killer Croc, Cara Delevingne as June Moone/Enchantress, Ike Barinholtz as Captain Griggs, Scott Eastwood as GQ Edwards, Adam Beach as Christopher Weiss/Slipknot, Common as Monster T, Karen Fukuhara as Tatsu Yamashiro/Katana, David Harbour as Dexter Tolliver, Jim Parrack as Jonny Frost, Alex Meraz as Gomez, and Corina Calderon as Grace Santana.
An extended cut of the film was released on Blu-Ray on November 15, 2016.[1] A sequel, The Suicide Squad, was released on August 5, 2021.
Synopsis
Figuring they're all expendable, a U.S. intelligence officer decides to assemble a team of dangerous, incarcerated supervillains for a top-secret mission. Now armed with government weapons, Deadshot, Harley Quinn, Captain Boomerang, Killer Croc and other despicable inmates must learn to work together. Dubbed Task Force X, the criminals unite to battle a mysterious and powerful entity, while the diabolical Joker launches an evil agenda of his own.
Plot
9 months after the death of Superman depicted in Batman v Superman: Dawn of Justice, government agent Amanda Waller proposes to assemble a squad of incarcerated criminals and Metahumans that she controls and to place them under the command of Colonel Rick Flag, a highly skilled and decorated soldier. The team, labeled by her as "Task Force X", are intended to be used to intervene in deadly missions for the United States government concerning the supernatural. The members of the team, who became known as Task Force X are recruited for service by Waller and Flag, and are offered reductions to their sentences in exchange. The members are implanted with explosive devices in their necks so Waller and/or Flag can kill any of them should they attempt to escape or directly disobey an order.
Among Waller's intended recruits is Dr. June Moone, who happens to be in a relationship with Flag. Moone, an archaeologist, has become possessed by an ancient spirit known only as "The Enchantress" after opening a cursed idol in a tomb in Central America. She has difficulty controlling her powers and is soon completely overcome by the witchcraft wielding spirit. Things only get worse and the Enchantress escapes locating a vial containing her brother. She teleports to a subway station in Midway City and incapacitates a commuter to use as a host for her brother's spirit, the Incubus. The pair start to attack the city with a horde of monsters.
Waller then calls on Task Force X to extract a valuable person from Midway City. The Squad; assassin Floyd Lawton (Deadshot), former psychiatrist Dr. Harleen Quinzel (Harley Quinn), robber Digger Harkness (Captain Boomerang), pyrokinetic Chato Santana (El Diablo) and the reptilian mutation Waylon Jones (Killer Croc) are implanted with the nano explosives and given their gear. Flag briefs the squad on how they are to go about accomplishing their mission. Just before their departure, the squad is joined by additional members; the rope wielding Christopher Weiss (Slipknot) and Tatsu Yamashiro (Katana), a mystic sword wielder to serve as Flag's bodyguard.
Harley Quinn's psychopathic lover and arch-enemy of Batman, the Joker, discover about Waller's plan and tortures one of her men into revealing to him the location where the nano bombs were made. The Joker and his men kidnap the wife of the scientist who invented them to blackmail him into telling them how to disable the bombs for Joker to free her.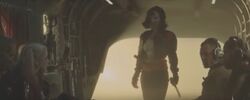 The Enchantress, sensing the squad's approach and intentions, attacks their helicopter causing it to crash. The squad now has to proceed on foot. Along the way, Captain Boomerang convinces Slipknot that there are no bombs in their necks and it is only a ploy. Slipknot attempts an escape, grappling up a building, but is killed when Flag activates the bomb demonstrating that they are no ruse.
A short while later, the team encounters and is beset by a swarm of Enchantress' minions. They specifically target Flag, seemingly owing to his relationship with June. The creatures are defeated and they continue onwards. The team manages to reach their endpoint at a high-rise building right in Midway's CBD. They work their way up surviving another clash with the creatures. Upon reaching the top they learn that their objective is Waller herself. She remained in the city in an attempt to conceal her participation in the Enchantress' besiegement of Midway.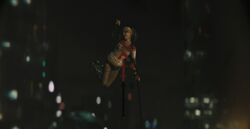 Waller calls for a helicopter extraction and the squad escorts her to the rooftop. The helicopter arrives, but it has been commandeered by the Joker and his gang. Once they discover this, Flag and his squad open fire on the helicopter, which fires back in turn. Once in range, the Joker deactivates the nano bomb in Harley's neck, permitting her to board the helicopter and is reunited with the Joker. Waller orders Deadshot to shoot Harley but he misses, deliberately.
Subsequently, the helicopter is shot down by Waller's men, and Harley jumps out on to a rooftop while the chopper crashes, seemingly killing the Joker, much to Harley's devastation. Waller is evacuated by another helicopter, leaving the squad to wait for the next one. Informed as to Waller's location, the Incubus brings down her helicopter and the Enchantress' minions kidnap her from the wreckage. The Enchantress then begins probing Waller's mind to acquire the positions of the required pieces to build her magical mechanism that will destroy Earth's technological facilities and rekindle humanity's faith in the supernatural, rather than machines.
Harley then returns to the squad while Deadshot discovers confidential documents abandoned by Waller which reveal that both she and Flag have been misleading the team. The squad subsequently decides to abandon the mission while Flag and his men choose to continue. The squad go to a bar but realize that they have a chance to prove themselves. They are joined by Flag who destroys the controls for their neck explosives. The squad joins him and pinpoint the Enchantress and Waller at the railway station.
The remainder of Flags men and Killer Croc go underwater to plant a bomb beneath the Incubus, while the others enter and fight the Enchantress and her forces. The usually placatory El Diablo amplifies his powers, increasing his size into a large flaming avatar and manages to subdue the Incubus, sacrificing himself to detonate the bomb underneath, resulting in an explosion that destroys both El Diablo and the Incubus as well as the machine, ending the Enchantress' hex.
Injured from battle, Enchantress propositions the squad to fulfill their sincerest longings in exchange for their allegiance. Harley mocks an intention to accept, approaching Enchantress to get near enough to cut her heart free with Katana's sword thereby reducing her power significantly. Captain Boomerang then finds the heart idol and gives it to Flag who eventually crushes it, killing the Enchantress and freeing June. Waller, still alive, emerges and the squad members are returned to Belle Reve and given ten years off their sentences. All but Captain Boomerang are allowed special privileges; Harley is given an espresso machine, Deadshot is allowed to visit his daughter Zoe (supervised) and Killer Croc is given a television set with cable access.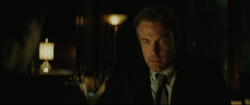 Soon after, the Joker, now revealed to be alive and unscathed, arrives at Belle Reve with his men and blows his way into Harley's cell to release her. Waller then meets with Bruce Wayne, who is given government's files with data on meta-humans in exchange for protection from investigations into what happened in Midway City.
Cast
Appearances
Characters
Locations
Events
Items
Enchantress' daggers

Enchantress' Superweapon
Vehicles
Sentient Species
Organizations
Production
Warner Bros. is in the development of a Suicide Squad movie, first mentioned by Jeff Robinov and David S. Goyer in early 2014. Charles Roven and Richard Suckle are producing the film while Justin Marks is writing it.[2] On 3 December 2014 several castings were announced with Tom Hardy cast as Rick Flag, Will Smith as Deadshot, Jai Courtney as Captain Boomerang, Jared Leto as the villainous Joker and British fashion model Cara Delevingne as the Enchantress.[3] However, due to extended commitments to other films, Tom Hardy was forced to drop his role in the film, he was later replaced by Joel Kinnaman.[4] Filming began on April 14, 2015, with the working title Bravo 14.[5]
Reception
Box office and critical reception
Upon the film's release, Suicide Squad received massively negative reviews from critics, with many criticizing the editing, the script and the plot to be very messy. Many claimed the film itself was "pure chaos" as it tried to combine another story.[6][7]
However, the film received acclaim for its acting performances with Will Smith, Robbie, and Leto receiving the most praise for their performances, and acclaim for its action sequences, visual style, humor, soundtrack, effects, and stunts.[8] Despite acclaim went directly to the acting, action, visuals, effects, etc. , the film received negative criticism for its villain; the Enchantress. Many claimed the villainess was extremely cliched and even drew criticism for her suit.[9] Multiple memes of the villainess were subsequently made and were used as laughable parodies.
Despite the negative reviews by critics, the audiences worldwide gave the film a more positive reception. The audiences gave acclaim for the acting, action, as well as the humor, visuals, etc... Many claimed that Leto's Joker was in their personal opinion "the coolest Joker ever shown on-screen."
In the box office, the film grossing $325.1 million in North America and $420.5 million in other territories for a worldwide total of $745.6 million, against a budget of $175 million ($325 million including advertising and promotion costs). SS was highly anticipated by audiences worldwide, It recorded a worldwide opening of $267.1 million from 59 countries and IMAX global debut of $18.2 million, both set new records for August.
Projections for its opening weekend in the United States and Canada were being continuously revised upwards starting from $100 million to as high as $150 million. The film opened across 4,255 theaters, the widest for August. Of that, 382 theaters were in IMAX, over 490 large-format screens locations, 270+ drive-ins, 180+ D-Box locations, and over 200 dine-in/luxury theaters. Suicide Squad is the biggest pre-sale for an August film, according to reports from ticket selling website, Fandango.[10] It opened Friday, August 5, 2016, on about 11,000 screens and earned $65.1 million, marking the biggest August opening and a single day, and the third biggest opening day gross of 2016. Of that, $5.8 million came from IMAX theaters, also a new August record. This includes $20.5 million it earned from Thursday previews, which began at 6:00 pm, setting the record for biggest-ever preview of August and the second biggest for a non-sequel film (behind Man of Steel). IMAX comprised $2.4 million (12%) of that figure much like Batman v Superman: Dawn of Justice and The Dark Knight Rises, however, the film saw a steep Friday-to-Saturday decline, grossing $38.8 million (a drop of 41%). In total, it earned $133.7 million in its opening weekend, setting records for August, previously held by Guardians of the Galaxy and for Will Smith's career (I Am Legend).[79] It is also the second-biggest debut ever for a non-sequel, behind The Hunger Games ($152 million), the fourth biggest of the year and the fifth-biggest for Warner Bros. IMAX made up $11 million of the opening numbers from 382 theaters, just $200,000 shy of breaking Guardians of the Galaxy' record. Nevertheless, it did beat Guardians' $7.6 million in terms of premium large format screens which comprised $13 million. For Cinemark XD screens, which made $3.2 million, the sixth-highest opening ever.
The opening numbers helped Warner Bros. push past the $1 billion mark in North America for the sixteenth year in a row. The film also helped the total weekend ticket sales to an unprecedented $221.3 million in August. Previously, August has never exceeded $200 million at the box office in a single weekend in North America. Suicide Squad scored a massive debut primarily on the backs of the under-35 set which made up 76% of the opening weekend. Audiences were also diverse with African-Americans making up 41% of the patrons.
Following its record-breaking opening weekend, it posted the biggest August Monday gross with $13.1 million, a drop of 56.5% from its Sunday gross. This broke Guardians of the Galaxy's previous record of $11.7 million, and also the biggest August Tuesday with $14.3 million, up 9% from its Monday take. The film has now earned the biggest Friday, Saturday, Sunday, Monday, and Tuesday in August history. It made $179.1 million in its first week of release, the fourth biggest of the year. Despite earning $13.4 million on its second Friday, the film dropped 79%, slightly less than Batman v Superman's 81% drop. Following a first-place finish in its first weekend of release, the film faced a steep decline of 67.2% in its second weekend, earning an estimated $43.8 million to score the biggest August second weekend gross. It also passed the $200 million mark in just ten days and was able to hold the top spot for the second time in a row despite competition from the comedy Sausage Party.
However, the drop is among one of the biggest declines for a studio superhero film, and for Warner Bros. which The Hollywood Reporter called it "deja vu all over again" after Batman v Superman tumbled 69% in its second weekend earlier in the year. The second-weekend decline is the second biggest in summer history, only behind Warcraft's historic 70% drop in June of the same year. The site also highlighted possible reasons for the significantly steep drop: dismal reviews, general apathy among moviegoers, altering movie-going habits, and competition.
Despite an influx of heavy competition (from both holdovers and newcomers), Suicide Squad managed to top the box office for the third weekend in a row, an achievement shared in 2016 only by Deadpool, Zootopia, The Jungle Book and Finding Dory. It fell by 52.1%, earning $20.9 million. The third-weekend drop is the second-best hold among all the live-action superhero release of 2016. Only Deadpool had a lower third-weekend percentage drop with a 44.9% drop. The fall was also better than the likes of other superhero films of 2016 such as Batman v Superman (-54.5%), Captain America: Civil War (-54%) and X-Men: Apocalypse (-56%). After three weeks of holding the top spot, it was finally overtaken by Don't Breathe on its fourth weekend. It maintained the second spot in its fifth weekend and registered its best hold with only a -20% decline while also passing the $300 million thresholds on its thirty-second day of release. It remained in the top ten for eight weekends until finally falling off in its ninth weekend.
After its massive box office success, the film received numerous accolades and nominations. It was nominated for three Grammy Awards as well as one Critics' Choice Movie Awards (winning one), seven People's Choice Awards (winning one) and received multiple Teen Choice Awards nominations, including "Choice AnTEENcipated Movie", "Choice Movie Actor: AnTEENcipated" for Will Smith and Scott Eastwood, and "Choice Movie Actress: AnTEENcipated" for Margot Robbie and Cara Delevingne.
The film won an Academy Award for Best Makeup and Hairstyling at 89th Academy Awards, making it the first film in the DC Extended Universe to win an Academy Award.
#ReleaseTheAyerCut campaign
Main article: David Ayer's Suicide Squad
Videos
Trailers
Interviews
Other
Music
Trivia
Director Zack Snyder was responsible for directing the specific scene where Flash appears at the beginning of the film. The scene was filmed during principal photography for the film Justice League. Coincidentally, stock footage from the previous film he directed, Batman v Superman: Dawn of Justice was also included in the intro, showing the funeral of Superman.
Keeping the theme from the comic continuity of the Suicide Squad members being expendable assets, Slipknot and El Diablo die.
Killer Croc is not normally part of the Suicide Squad in the comics.

He was added to the team roster for the film because it was felt that a CGI character like King Shark wouldn't blend into the realistic setting of the film.

Captain Boomerang tricking Slipknot into testing whether or not the bombs were real was taken straight from the first Suicide Squad story.

Ironically enough, Slipknot is not given a file in Waller's introduction of potential Squad members.
Although, in the comic story, the bombs only blew off the victim's arms.

The flashback to how Dr. Quinzel becomes Harley Quinn is slightly different from the comics. In the comics, Joker pushed her into the vat, while in the film, Harleen falls willingly.
How Joker managed to escape the crashing/burning helicopter is never revealed.

This situation appears to have been adapted from the animated film Attack on Arkham, where the Joker is trapped in a falling helicopter by Deadshot and left for dead.

Harley's bomb was disabled when Joker attempted to rescue her, yet she was intimidated by Waller's threats to detonate it. It's possible she re-activated the bomb, or at the moment, Harley forgot.
Perks the Squad get back at Belle Reve.

Harley gets a bed and espresso machine. She also appears to be reading a provocative book.
Deadshot is allowed supervised visits to his daughter and gets her letters.
Croc is given the BET network to watch with better home comforts.

Batman was responsible for Deadshot, Harley Quinn and Killer Croc being drafted into the Suicide Squad due to either arresting them or chasing them out of Gotham City.
Katana speaks very little in the film, except for her flashback, greeting Flag for the mission and when preparing to face Enchantress. Many fans have misunderstood this for Katana not being fluent in English.
Lobo Web series villain Sunny Jim's face appeared in the front of a store in the film.
In the film, there is a slight goof which occurs around the 54:21-32 mark where Harley Quinn's actress Margot Robbie briefly says her lines in her natural Australian accent while talking to Deadshot before switching back to her character's American accent.
References

External links