Doctor Strange in The Multiverse o Madness - The Loop
Play Sound
__

_
Series
|
Soundtrack
|
Characters
|
Cast
|
Gallery
"You know, lately I'm just thinkin' I'm a fucking maniac. I don't know, I'm havin'... feelings about things."
―Peacemaker to Vigilante
Peacemaker is an HBO Max-exclusive action comedy drama television series created by James Gunn and based on the DC Comics anti-hero of the same name. The series is produced by The Safran Company and Troll Court Entertainment in association with Warner Bros. Television Studios. It is a spin-off/sequel to The Suicide Squad and the first television series in the DC Extended Universe, sharing continuity with the other media of the franchise. The series premiered on January 13, 2022. On February 17, 2022, the series was renewed for a second season.
Set five months after the events of The Suicide Squad, the series follows Christopher Smith/Peacemaker as he is enlisted by an A.R.G.U.S. black ops squad led by Clemson Murn for "Project Butterfly," a mission to take out parasitic butterfly-like creatures. The series stars John Cena in the title role, and the starring cast also includes Danielle Brooks, Freddie Stroma, Chukwudi Iwuji, Jennifer Holland, Steve Agee, and Robert Patrick.
Synopsis
Peacemaker is a live action series that follows Christopher Smith AKA Peacemaker, an extremist murderer who believes he's on a quest for peace, killing anyone and everyone to achieve his ultimate goal.
Cast
Main cast
Recurring cast
Cameo appearances
Episodes
To be added
Production
Development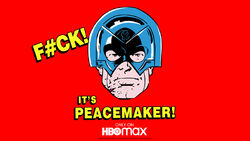 "Peacemaker is an opportunity to delve into current world issues through the lens of this superhero/supervillain/and world's biggest douchebag. I'm excited to expand The Suicide Squad and bring this character from the DC film universe to the full breadth of a series. And of course, to be able to work again with John, Peter, and my friends at Warner Bros. is the icing on the cake."
On September 23, 2020, it was announced that HBO Max had ordered an eight-episode spin-off series of James Gunn's then-upcoming The Suicide Squad, focused on the character of Peacemaker played by John Cena. Peacemaker would begin production in early 2021, before Gunn began his work on Guardians of the Galaxy Vol. 3 for Marvel Studios.[2] On October 9, 2020, Hollywood North Buzz reported that filming would begin in Vancouver on January 11, 2021, and would end on June 9, 2021, assuming the ongoing COVID-19 pandemic wouldn't delay production. They also reported that the working title for Peacemaker was "The Scriptures." On Twitter, James Gunn said that the timeline of when the series takes place would not be revealed until after The Suicide Squad releases on August 6, 2021, in order to avoid spoiling the film and whether or not Peacemaker lives. He also confirmed that other Suicide Squad members from the movie would appear in the show, but didn't name anyone.
On March 31, 2021, it was reported that Jody Hill had been hired to direct episodes of the series.[3] On April 4, 2021, it was reported that Rosemary Rodriguez was also attached to direct episodes of the series.[4] On June 5, 2021, it was reported that Brad Anderson was attached to direct episodes of the series.[5] On June 14, 2021 Clint Mansell and Kevin Kiner were announced to score the series. On July 8, 2021, Screen Rant reported that Murphy was working on Peacemaker in some capacity.[6]
On February 16, 2022, it was officially announced that Peacemaker was renewed for a second season.[7]
Casting
On November 11, 2020, Deadline reported that Danielle Brooks was joining Peacemaker as original character Leota Adebayo. Gunn confirmed this a few hours later on Twitter, along with the following Deadline report an hour later that Robert Patrick, Jennifer Holland, and Chris Conrad would be joining the series as Auggie Smith, Emilia Harcourt, and Adrian Chase/Vigilante respectively.[8][9] December 10 brought news from the Illuminerdi that Warner Bros. was looking to cast a male actor in their fifties or sixties to play a character named Murn, described as "strong, tough, a true leader." The same article reported that they were also looking for another male actor in their twenties to forties under a height of 5'6", with stunt and/or martial arts experience to play "an extremely small and gifted martial artist, who is very fast, but not very quick-witted."[10] On December 14, the Illuminerdi reported that WB was considering actress Maggie Q to play Detective Vivian Song on the show.[11]
Filming
On November 8, 2020, Gunn posted on Twitter that he was beginning his mandatory two-week quarantine in Canada before production on Peacemaker started there. This seemed to imply that shooting would begin much earlier than expected.[12] On December 14, Deadline reported that Lethal Weapon creator Matt Miller has joined the series as an executive producer.[13] On January 15, 2021, James Gunn confirmed that filming had begun.[14] On July 12, 2021, James Gunn announced that after 131 days, season 1 had wrapped.[15]
Post-production
On September 5, 2021, Gunn confirmed in a post on Twitter that he was in the midst of editing the series.[16] September 22 saw Gunn confirm he had finished with the series' soundtrack, teasing its contents as "all hair metal".[17]
The set of Marvel Studios' Guardians of the Galaxy Vol. 3, of which Gunn also served as director and writer, was used to film Ezra Miller's cameo as Flash.[18]
Gunn later confirmed that he was working on a second series based in the DC Extended Universe, alongside news that he was in the final stages of setting up a second season of Peacemaker. A second season was not outright confirmed at this time.[19] The news did come just before the season 1 finale however, when Gunn confirmed that he would be continuing Peacemaker for a second season via Twitter.[20]
Music
Song title
Artist
Location(s)
Do Ya Wanna Taste It
Wig Wam

DC FanDome Teaser

Opening Title

Push Push (Lady Lightning)
Bang Camaro

Official Trailer (first half)

Kickstart My Heart
Mötley Crüe

Official Trailer (second half)

The Church of Rock and Roll
Foxy Shazam

Red Band Trailer (first half)

Come On Come On
Nashville Pussy

Red Band Trailer (second half)
Videos
Title sequence
Trailers
Clips
Featurettes
Interviews
Other
References

External links