Metropolis is a large city located in the District of Metropolis[1] of Delaware in the United States of America. Metropolis is famous for its forward-looking, optimistic spirit, captured in its nickname "City of Tomorrow".[1] It is home to the headquarters of both the Daily Planet newspaper and global corporation LexCorp Industries. It is located across the bay from its sister city, Gotham, in New Jersey and home of the alien superhero Superman.
History
Metropolis was founded in 1661 by early European settlers at the start of the colonization of North America. It grew steadily to become one of the largest cities in the world, and became a famous tech hub and media centre.
Much of Metropolis' central business district was destroyed by General Zod and his Kryptonian military forces in their attempt to convert Earth's atmosphere to that of Krypton's. Whole buildings were obliterated and rubble and debris covered the area. Metropolis recovered in time and became safeguarded by their new local savior, Superman. In the aftermath, a large statue of Superman was built in the city centre in a new purpose built venue called Heroes Park.[1]
The city is now the home of the superhero Superman, and was protected by him along with the rest of the world until his tragic death in 2015, when sacrificing himself to stop a mighty monster known as Doomsday.
When Superman was resurrected a year later, thanks to the help of Flash, Cyborg, Wonder Woman, Aquaman and Batman, he resumes his role as local superhero.
Locales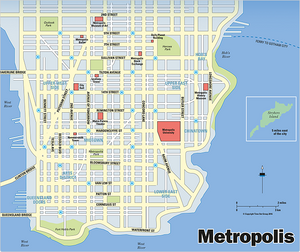 Abbey
Alewife
AmerTek Arena
Apricot Spa
Atwater Tower
Awakenings Youth Theater
Berkeley Lodge
Berkowitz Airport
Billups Hall
Blaze Publishing
Bloom
Border Room
Broadrun Jazz Club
Carlini's
Carrasco's
Centennial Hotel
Chaney's
Digby & Sons
El Ciento
Empire Pier
Evans Pretzel Factory
Glenmorgan Square
Grantland Park Outdoor Arts
Greico Theater Workshop
Hammersmith Tower
Hob's Bay Hospital
Hotel Metropolis
Joy Lounge
Jules Verne Extra-Terrestrial Museum
Julian Gallery
Karl's Pump & Brew
Koul-Brau Breweries
LeMarvin Bistro
LexCorp Plaza
Longshore Ballroom
Lucy's Pub
Mary Alice's Consignment Shop
Metro Souvenirs
Metro Square
Metropolis Athletic Club
Metropolis Ballet
Metropolis City Hall
Metropolis General Hospital
Metropolis Grand Hotel
Metropolis International Airport
Metropolis Overstreet Mall
Metropolis Philharmonic
Metropolis Science Explorarium
Metropolis Stock Exchange
Metropolitan Club
Minko Hall
Mo's Café
Mr Leonards
Park Metropolis Downtown
Pit
Queensland Park
Queensland Pier
Rail Line
Schaffenberger
Schott's Toys
Schwartzenoff
Sienna Hall
Simmons Gallery
Supernova
Swinburne Hall
Turley Gallery
Uri's Family Restaurant
Washington Medical Center
Yellow Prawn
Known residents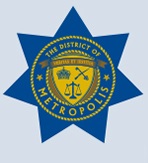 Former residents
Gallery
Trivia
References
External Links