Spider-Man: No Way Home Trailer Dropped - The Loop
Play Sound
An unidentified woman is the mother of Zoe Lawton, and ex-wife of Floyd Lawton.
Biography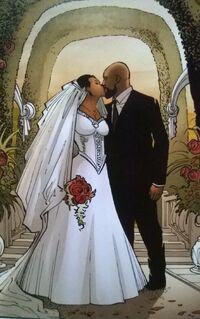 At some point, Floyd Lawton married this woman, and ten months later, in 2004, the woman gave birth to a daughter with Lawton named Zoe.[1] During these "better times", Lawton bought his wife a car. They eventually divorced.[2]
In 2006, Lawton discovered the nature of his daughter's home life with his ex-wife. Lawton noticed that they were living in a neighborhood with drug trafficking, prostitution and gang violence so he offered a significant amount of money to the woman for her to move out and give her daughter better care. Instead, the woman used the funds for alcohol, forcing Lawton to step up and use extreme force to clean up her neighborhood of criminal activity. Unable to live with the woman, he spent years earning money to provide for Zoey's schooling.[3]
Eventually, the woman started a relationship with a man named Darnell and told Zoe about what her father's real livelihood actually entailed.[4] During this time, the woman was still known to use the car given to her by Lawton in better times. The woman had also gotten used to Floyd returning their daughter at a later period than agreed.[2]
Relationships
Family
Behind the scenes
The novelization of the film includes an alternate scene where Floyd's ex-wife appears in a car to pick up Zoe from Floyd. She then drives off with Zoe right before Batman makes his appearance known to Floyd and proceeds to apprehend Floyd, thus creating a scenario very different from the film.
In the comics Michelle Torres was an old flame of Deadshot and the mother of their daughter Zoe. Floyd Lawton actually had a wife called Susan, who had a son with Floyd called Eddie. She later died after committing suicide, unable to deal with the death of Eddie, who was killed by the pedophile Wes Anselm.
References
External links