Jurassic World: Dominion Dominates Fandom Wikis - The Loop
Play Sound
Earth-1[1] is one of the many universes in the vast multiverse. It is the home universe of the Justice League, Shazam Family, Birds of Prey, Justice Society, Green Lantern Corps, Task Force X, the 11th Street Kids and lesser vigilantes such as Batgirl, Blue Beetle, Zatanna, Green Arrow, and the violent antiheroes Black Adam, Peacemaker, and Vigilante.
History
"The answer is always more." ―Max Lord, Wonder Woman 1984

It is suggested that this article, or a section of this article, could benefit by being expanded upon.
Arrival of Enchantress and Incubus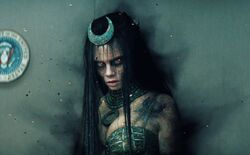 In 4358 B.C., the inter-dimensional beings Enchantress and Incubus traveled from their dimension to Earth-1, where they appeared before the people of South America on Earth. They were worshipped by and ruled over a group of ancient humans but were eventually overthrown and imprisoned inside the Tres Osos Caves.[2]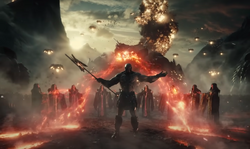 When the New God warlord and conqueror Darkseid of Apokolips discovered the Anti-Life Equation on Earth, he orchestrated a large-scale invasion of the planet from "the dark place" so that he could take the power of the Equation for himself. However, he and his army were driven back by the forces of Men, Atlanteans, Amazons, and Old Gods, who had formed an alliance and were being assisted by the Green Lantern Yalan Gur.[3]
Meeting of the Flashes
To be added
To be added
Overview
To be added
Known locations
This list addresses locations on a universal scale, such as galaxies, stars, and planets.
Behind the scenes
References
↑ Deibert, Amanda. Serving Up Justice #3, DC Comics, 2021.
↑ Ayer, David (writer and director) (August 5, 2016). Suicide Squad.
↑ Terrio, Chris, Beall, Will (writers) & Snyder, Zack (writer and director) (March 18, 2021). Zack Snyder's Justice League.