Aquaman - Official Trailer
Play Sound
__

__
_
Film
|
Novelization
|
Soundtrack
|
Characters
|
Cast
|
Gallery
"I'm no leader. I'm not a king. I do not work or play well with others. And I can't let you die trying to turn me into something I'm not."
"You think you're unworthy to lead because you're of two different worlds. But that is exactly why you are worthy. You are the bridge between land and sea. I can see that now. The only question is... can you?"
―Arthur Curry and Mera
Aquaman is a 2018 superhero film based on the DC Comics superhero of the same name. Co-produced by DC Entertainment and The Safran Company and distributed by Warner Bros. Pictures, it is the sixth installment in the DC Extended Universe. It was released on December 21, 2018.
The film is directed by James Wan and stars Jason Momoa as Arthur Curry/Aquaman, Amber Heard as Mera, Willem Dafoe as Nuidis Vulko, Patrick Wilson as King Orm Marius, Dolph Lundgren as King Nereus, Yahya Abdul-Mateen II as David Kane/Black Manta, Ludi Lin as Captain Murk, Temuera Morrison as Thomas Curry, and Nicole Kidman as Queen Atlanna. It also co-stars Randall Park as Dr. Stephen Shin, Graham McTavish as King Atlan, and Michael Beach as Jesse Kane.
A sequel, Aquaman and the Lost Kingdom, will be released on March 17, 2023.
Synopsis
Following the events of Zack Snyder's Justice League, Arthur Curry, the reluctant heir to the underwater kingdom of Atlantis, is caught in a battle between surface dwellers that threaten his oceans and his own people, led by his half-brother Orm, who are ready to lash out and invade the surface.
Plot
In Maine, 1985, lighthouse keeper Tom Curry rescues Atlanna, the queen of the underwater nation of Atlantis, and they fall in love and have a son, Arthur Curry, who is born with the power to communicate with marine lifeforms. Following an attack by Atlantean soldiers sent by King Orvax to retrieve Atlanna, who fled from her arranged marriage, she is forced to abandon her family and return to Atlantis, entrusting to her loyal advisor Nuidis Vulko the mission of training Arthur. Under Vulko's guidance, Arthur becomes a skilled warrior, but is rejected by the Atlanteans for being a half-breed and ultimately leaves Atlantis behind.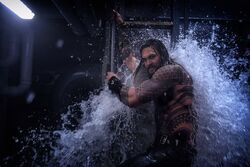 One year after Steppenwolf's invasion, Arthur confronts pirates led by Jesse Kane, who are in the middle of a Russian nuclear submarine hijacking. Kane's attempt to kill Aquaman ultimately costs him his life, and his son, David Kane, vows revenge against Arthur. A second Russian submarine, in retaliation, strikes Atlantis, but Arthur's half-brother King Orm, quickly destroys it and uses the seemingly unprovoked attack as a pretext to declare war on the surface. Nereus, ruler of the kingdom of Xebel, supports him, but Nereus' daughter Mera, who has been betrothed to Orm, refuses to aide them and journeys to the surface to ask Arthur for help. However, Orm sends tidal waves to the surface to prepare for the forthcoming attack, one of which drowns Tom. Mera saves Tom with her powers, earning her Arthur's trust. Arthur accompanies Mera to a rendezvous with Vulko (albeit reluctantly), who urges Arthur to find the Trident of Atlan, a magic artifact that once belonged to Atlantis' first ruler, in order to reclaim his rightful place as king. They are ambushed by Orm's men, and Mera and Vulko escape, while Arthur is captured.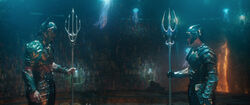 Orm visits Arthur in captivity and announces that Atlanna was executed for the crime of loving a human and having a half-breed son, blaming Arthur and the surface for her death. He offers Arthur an opportunity to leave forever, but Arthur instead challenges him to a duel in the Ring of Fire. Orm gains the upper hand and nearly kills Arthur before Mera rescues him. Together, Arthur and Mera journey to the to the fallen Kingdom of the Deserters buried under the Sahara desert, where the trident was forged, and unlock a holographic message that leads them to Sicily, where they retrieve the trident's coordinates. Meanwhile, Orm provides David with Atlantean armor and weaponry and sends him to stop them, imprisons Vulko upon learning of his betrayal, and coerces the remaining five kingdoms of Atlantis to pledge allegiance to him and his campaign against the surface.
In Sicily, Arthur and Mera are ambushed by David, who fights and injures Arthur before being thrown off a cliff to his apparent death. Mera nurses Arthur's wounds as they journey to the trident's whereabouts, and encourages him to embrace his destiny as a hero. Arriving at their destination, Arthur and Mera are attacked by a legion of amphibious monsters known as the Trench, but manage to fend them off and reach a wormhole that transports them to an uncharted sea located at the center of the Earth. There, they are unexpectedly reunited with Atlanna, who was sacrificed to the Trench for her crimes, but manage to escape them and reach the uncharted sea, where she has been stranded ever since.
Arthur faces Karathen, the mythical leviathan that guards the trident, and voices his determination to protect both Atlantis and the surface, proving his worth and reclaiming the trident, which grants him control over the seven seas. Arthur, Mera and Atlanna lead an army of marine creatures in battle against Orm and his followers, who renounce their obedience to Orm and embrace Arthur as the true king upon learning he wields the trident. Arthur defeats Orm in combat, but chooses to spare his life, and Orm accepts his fate after discovering Arthur has found and rescued their mother. Atlanna returns to the surface to reunite with Tom, while Arthur ascends to the throne, with Mera by his side, and embraces his fate as Aquaman.
In a mid-credits scene, David is rescued by Doctor Stephen Shin, a scientist obsessed with finding Atlantis, and agrees to lead Shin there in exchange for his help to kill Arthur.
Cast
Appearances
Characters
Locations
Events
Items
Vehicles
Fishermen Corvette Gunner
Sentient species
Creatures
Organizations
The Daily Coastal

(newspaper)
Mentioned
Production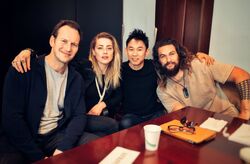 Warner Bros. had reportedly been hearing pitches from various writers for an Aquaman movie and writer/producer Geoff Johns told Variety that Aquaman is a priority character for DC and Warner.[7] On 13 August 2014, The Hollywood Reporter confirmed that both Will Beall and Kurt Johnstad have been hired by Warner Bros. to pen separate screenplays for Aquaman and will pick which is deemed best to make into a movie.[8] Aquaman will be the sixth film in the DC Extended Universe, with Jason Momoa starring.[9]
Originally, the studios were considering Jeff Nichols, Noam Murro and Karl Urban to direct the film,[10] On April 10, 2015 James Wan was reported to be the frontrunner to direct the film,[11] before later closing the deal.[1] Wan will also write the film along with Will Beall.[3]
Pre-production said to start before Christmas of 2016 In Queensland, Australia where filming will begin in 2017. [12] In December, it was announced that the film's working title was "Ahab".[13] Amber Heard was reported to be in talks to portray the role of Mera in January 2016 in both Aquaman and the two-part Justice League.[14] She was confirmed in the role several months later.[15] It was announced that Aquaman will be set after Justice League and it won't be an origin story.[16]
James Wan also revealed that he choose to direct Aquaman over The Flash.[17] On July 22, 2016, Will Beall was confirmed to be writing the film, based on a story treatment written by Wan and Johns.[3] It was reported on August 10, 2016 that Black Manta will serve as the film's primary antagonist.[18]
James Wan is aiming for a film that is a "swashbuckling action adventure, sort of high seas adventure story. A quest story in the spirit of Raiders of the Lost Ark and Romancing the Stone and there will be a dynamic between Arthur and Mera start off as a love-hate relationship where they don't quite click and as time goes by and they try to work together they get closer and closer".[19] Aquaman entered pre-production in Queensland, Australia in November 2016[20] with filming to begin in 2017.[21] On December 2, 2016, Warner Bros. announced a new release date of October 5, 2018.[22]
Patrick Wilson was cast as Orm on December 12, 2016,[23] and Keir Beck and his stunt team were confirmed to work on the film on December 29, 2016.[24] On January 31, 2017, Nicole Kidman and Yahya Abdul-Mateen II were reportedly cast as Queen Atlanna and Black Manta, respectively.[25] On February 3, 2017, Temuera Morrison was cast as Aquaman's father, Thomas Curry.[26] On the 20th of February it was announced by James Wan that Don Burgess will be the cinematographer for the movie.[27] On March 16, it was announced that the movie will be delayed from the October release date, to December 21, 2018.[6] On 23 August 2017, it's been confirmed that the film will run on a $160 million budget.[28]
In an interview with CinemaBlend, Jason Momoa reveals that the film will get into ocean pollution.[29] Momoa went on to explain that the real-life issues of pollution and contamination of the sea will factor into the film's depiction of the conflict between the surface and Atlantis, "and how he has to bring these two worlds together. Because you're going to see this ocean world, which [humans] just pollute, and how do these people feel underwater with what the land does to the ocean. And this war that is going to come between the two, and I'm the only one that can link the two. He has to do it. He doesn't want to do it."[30]
Videos
Trailers
Clips
Music
Trivia
Patrick Wilson, who portrays King Orm, previously voiced the President of the United States in Batman v Superman: Dawn of Justice
At the beginning of the film, it is shown that Atlanna and Tom Curry met in 1985 and gave birth to their son on January 29, 1986. This contradicts the film Suicide Squad, where Arthur Curry's birthdate was listed as January 29, 1979.
There is a logical error associated with the titles of Orvax and Atlanna: When Atlantean soldiers attack Tom Curry's house, they call Atlanna the queen, but at that time she should have been called the princess, since she was not the sole monarch and she was forced to marry. Besides, the soldiers called Orvax as "King" even before he married Atlanna, which is a goof, since Orvax was not a descendant of King Atlan and should not have been a king before his wedding.

Unlike the film, the DC Comics universe clearly explain that Atlanna was an Atlantean princess who was forced into a marriage with a brutal Commander Orvax Marius of the Atlantean Navy due to patriarchal and political motives serving to tithe and bind bureaucratic fences between Atlantis's military and nobility. They both became known as the King and Queen of Atlantis only after their wedding ceremony.
Reception
Box office
The movie left theatres on 4 April 2019, and it has earned US$1.147 billion globally.[31] Aquaman is the highest-grossing film in the DC Extended Universe.
Critical response
On review aggregator Rotten Tomatoes, the film holds an approval rating of 64% based on 303 reviews, with a 6/10 average rating. The website's critical consensus reads, "Aquaman swims with its entertainingly ludicrous tide, offering up CGI superhero spectacle that delivers energetic action with an emphasis on good old-fashioned fun." Metacritic surveyed 49 critics' reviews and assessed 22 as positive, 21 as mixed and 6 as negative; the website assigned an aggregate score of 55 out of 100, indicating "mixed or average reviews".Audiences polled by CinemaScore gave the film an average grade of "A–" on an A+ to F scale, while those at PostTrak gave it an 82% overall positive score and a 69% "definite recommend".
Peter Debruge of Variety criticized the dialogue but praised Wan's direction, the production design, and the final act, writing, "The biggest surprise here is how, after the running time of a standard-length film has elapsed, Aquaman suddenly kicks the movie up a level for the finale. At just the moment this critic's eyes tend to glaze over in superhero movies—typically, as the villain goes nuclear and a portal to another dimension opens, threatening to destroy the planet—Wan unleashes a massive deep-sea battle on par with The Lord of the Rings." Germain Lussier of io9 wrote "Aquaman is all about spectacle. It's filled with ambition. It's always about trying to put the coolest, most imaginative sequence on screen at every single turn of the story, no matter what the cost." Writing for TheWrap, William Bibbiani called the film "a weird and wonderful superhero adventure that strives—and almost succeeds—to be the most epic superhero movie ever made."
Chris Nashawaty of Entertainment Weekly graded the film a C-, writing, "It can't decide if it wants to be silly or serious—a superhero movie or a parody of one...Unfortunately, the bloated, waterlogged film is loaded with crummy CGI, cheesy costumes, and groaner dialogue delivered by actors who are too good to traffic in such nonsense". For the Chicago Tribune, Michael Phillips gave the film 1.5 stars out of 4, criticizing the film's script and Wan's direction, saying, "Watching this movie is like spending two hours and 27 minutes staring at a gigantic aquarium full of digital sea creatures and actors on wires, pretending to swim."
Future
In December 2018, The Hollywood Reporter announced via Warner Brothers Pictures chairman Toby Emmerich that the studio is developing a sequel.[32] Discussions of a followup film began during post-production, when director James Wan stated to TotalFilm that the first film leaves room for further stories.[33] Jason Momoa told SyfyWire that he has the beginning for a sequel written, and that after he pitched it to the studio through Emmerich and Safran, they were receptive and enthusiastic about his ideas.
References
External links