2020 was a year in the 21st Century.
Events
January
10th
"Diamonds" is released by Megan Thee Stallion and Normani.[2]
14th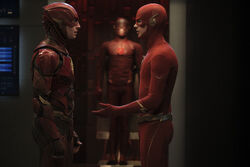 Barry Allen winds up inside the Speed Force, accidentally coming across an alternate version of himself in the process. He asks the other Barry if his suit is cosplay and if he wants a selfie, to which the other Flash says no, exclaiming that he is also the Flash.[3]  (estimated date)
The two Barrys compliment each other's suits, but then they both quickly stand back awkwardly and shake hands, both saying, "I'm Barry Allen," in unison. The Earth-1 Barry says that their encounter should be impossible now, to which Barry asks why, not knowing what he means.  (estimated date)
Before the Earth-1 Barry could explain the situation any further, Barry fades out while saying that he had told Victor Stone this was possible.[3]  (estimated date)
15th
Barry Allen decides to use the superhero name, The Flash.[3]  (estimated date)
17th
"Joke's on You" is released by Charlotte Lawrence.[2]
31st
"Sway with Me" is released by Saweetie and Galxara.[2]
February
7th
Mid-February
Late
June
26th
"Back At It" is released by Lil Mosey.[2]
July
14th
November
6th
Deaths
References
External links
Community content is available under
CC-BY-SA
unless otherwise noted.