"That seems like a slight over-simplification."
―Barry Allen


---

It is suggested that this article, or a section of this article, could benefit by being expanded upon.
2020 was a year in the 21st Century.
Events
January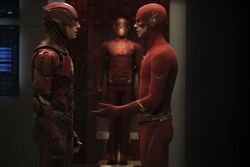 14th
Barry Allen winds up on Earth-1 via the Speed Force, accidentally coming across that universe's version of himself in the process. He asked the other Barry if his suit was cosplay and if he wanted a selfie, to which the other Flash said no, exclaiming that he was also the Flash. The two Barrys complimented each other's suits, but then they both quickly stood back awkwardly and shook hands, both saying "I'm Barry Allen" in unison. The Earth-1 Barry said that their encounter should be impossible now, to which Barry asked why, not knowing what he meant. Before the Earth-1 Barry could explain the situation any further, Barry faded out while saying that he had told Victor Stone this was possible.[1]
15th
February
July
14th
November
6th
Deaths
References
External links
Community content is available under
CC-BY-SA
unless otherwise noted.