"That seems like a slight over-simplification."
―Barry Allen


---

It is suggested that this article, or a section of this article, could benefit by being expanded upon.
2018 was a year of the 21st century.
Events
January
18th
January–February
Attack on Sicily: Black Manta, Murk, and some Atlantean soldiers ambushed Aquaman and Mera in Sicily. Aquaman was wounded during his battle with Manta, and Mera was getting chased by Murk and the soldiers. But though Manta, Murk and the soldiers did their best efforts, they still lost to Mera and Aquaman and Manta was thrown off a cliff to his apparent death.[2]
Escape from the Trench: Arthur and Mera escape the Trench and are saved by Atlanna.[2]
Battle of the Brine: Orm Marius, along with King Nereus of Xebel, led his Atlantean armies to start a battle against the army of the The Brine. The plan was to attack straight: Just as it looked like Orm of Atlantis was going to slay the Brine King, Arthur arrived with the Karathen, creatures of the sea and the army of the Trench. Orm is defeated in the process.[2]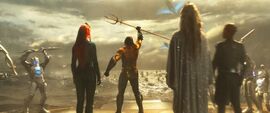 October
5th
"Legend" is released by Twenty One Pilots.[4]
November
1st
18th
Wesley Rowe, a fake identity used by Barry Allen, has his license expirated.[1]
December
7th
14-year old Philadelphia orphan Billy Batson tricks some cops and uses their police database computer to search for his mother's home. He arrives at the listed address but does not find her, this being one of his many attempts.[4]
Billy is placed into the Vasquez foster home, which has a number of other children, including superhero fanatic Freddy Freeman, whom Billy shares a room with. The entire foster family has dinner together.[4]
8th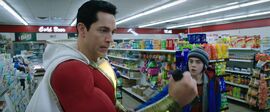 9th
14th
15th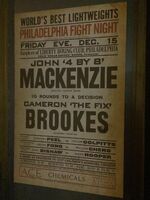 25th
Christmas Day occours. All the Vasquez Family (and so the Shazam Family) is reunited for the festivity.[4]
Battles and Conflicts
Deaths
References
External links
Community content is available under
CC-BY-SA
unless otherwise noted.