"That seems like a slight over-simplification."


---

It is suggested that this article, or a section of this article, could benefit by being expanded upon.
2018 was a year of the 21st century.
Events
January
18th
January-February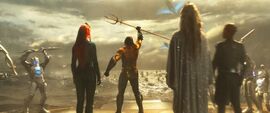 October
5th
"Legend" is released by Twenty One Pilots.[4]
November
1st
18th
Wesley Rowe, a fake identity used by Barry Allen, has his license expirated.[1]
December
7th
14-year old Philadelphia orphan Billy Batson tricks some cops and uses their police database computer to search for his mother's home. He arrives at the listed address but does not find her, this being one of his many attempts.[4]
Billy is placed into the Vasquez foster home, which has a number of other children, including superhero fanatic Freddy Freeman, whom Billy shares a room with. The entire foster family has dinner together.[4]
8th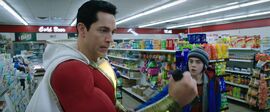 9th
Massacre at Sivana Industries: Doctor Sivana interrupts a board meeting of his father. After a brief exchange with his brother Sid, he throws him out the window to his death. After this, Thaddeus unleashed the Sins, letting them slaughter the other board members.[4]
Billy and Freddy get out of school the next day in order to head around town and test out the superpowers of Shazam, while Freddy records it all and uploads the footage to YouTube.[4]
Freddy Freeman's YouTube channel quickly gains a ton of viewership following his videos of Shazam's abilities.[4]
Freddy Freeman and Billy Batson start to write a journal about their superheroes adventures.[6]
Rescue of the Philadelphia Bus: after skipping school and showing off his powers again in public, Billy's show is interrupted by Freddy Freeman. This leads Billy to accidentally electrocute the tires of a bus on a nearby bridge, leading it to drive off the edge of the bridge. Using his god-like speed, Billy catches the bus with his bare hands.[4][7]
Ambush on Billy Batson: Billy Batson is discovered and attacked by Thaddeus Sivana across Philadelphia.[4][7]
10th
14th
25th
Christmas Day occours. All the Vasquez Family (and so the Shazam Family) is reunited for the festivity.[4]
Battles and Conflicts
Deaths
References
External Links
Community content is available under
CC-BY-SA
unless otherwise noted.