"I know, Mother, you've waited too long for the Unity. I know. But you will feed. And my exile will come to an end. I will take my place among the New Gods."
2017 was a year of the 21st century.
Events
January
13th
14th
20th
21st
Attack on Themyscira: Steppenwolf goes to Themyscira, where the first Mother Box is located. Despite the Amazons' efforts to escape with the Box or at least avoid Steppenwolf's destruction over the island, their defending ultimately fails. Queen Hippolyta attempted to escape with the Mother Box after sealing Steppenwolf inside the chamber, but Steppenwolf retrieves the Mother Box before Hippolyta and her Amazons could do anything.[1][2]
23th
After be returned to his apartment, Barry is approached by Bruce Wayne and they reveal their superheroe identities to each other.[1][2]
Riding in a car with Bruce, Barry talks his head off, asking whether Bruce wants a slice of pizza despite having eaten it all, or even what he actually eats. On his way, a gardener produce truck that overtook them begins to lose some of its boxes of oranges. Barry takes it upon himself to collect them all, placing them back on the truck. He returns to Bruce's car with only one orange, much to the disappointment of Bruce.[2][3]
24th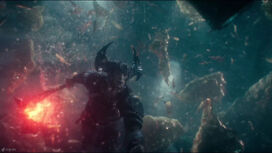 25th
26th
February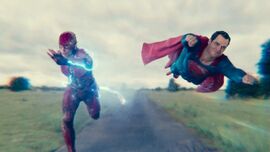 4th
Mid-February
Escape of Lex Luthor: Lex Luthor escapes Arkham Asylum and seeks to create a league of his own with the aid of Deathstroke.[6]
Barry and Victor take Bruce's Vision Gran Turismo out for a joyride. During their drive, they come across a burning building, which Barry makes quick work of and saves everyone inside, allowing firefighters to put the fire out. They return to the Batcave, where Bruce is none the wiser.[7]
Driving past a broken down car with a woman in labor, Diana gives them a ride, having Victor turn all of the traffic lights on the way to the hospital green. Arriving at the hospital, Diana assures the little girl that she will make a great sister, especially considering she stayed calm for her family. Getting back on the road, Diana thanks Victor, letting him know that it was all thanks to him.[8]
Thinking he's driving slow, Arthur offers to drive for Bruce, but Bruce declines. Suddenly coming upon a car racing away from police, they speed up, Arthur jumping out the side of the car and stopping the criminal with his trident, much to the amazement of Bruce.[9]
As Barry talks about the ice cream he's enjoying, Diana notices an old man with a flat tire. He explains that he has a spare tire but no jack. Allowing him to use Barry's phone to call his family, Diana lifts the car while Barry changes the tire, allowing him to be on his way right away.[10]
Arthur compliments Diana's car, hoping to take it for a ride himself. She declines, citing that she's heard how Atlanteans don't function well on land. They proceed to get into an argument over whether Amazons or Atlanteans are superior, before being interrupted by a robbery taking place. They agree that whoever can take out more robbers can drive, with Diana easily winning.[11]
March
16th
June
22nd
July
21st
The videogame Fortnite is released.[4]
August
28th
September
8th
The movie It is released in theaters.[14]
October
15th
"Safari Song" is released by Greta Van Fleet.[15]
November
9th
10th
18th
December
Battles and Conflicts
Births
Deaths
References
↑ 1.00 1.01 1.02 1.03 1.04 1.05 1.06 1.07 1.08 1.09 1.10 1.11 1.12 1.13 1.14 1.15 1.16 1.17 1.18 1.19 1.20 1.21 1.22 1.23 Justice League
↑ 2.00 2.01 2.02 2.03 2.04 2.05 2.06 2.07 2.08 2.09 2.10 2.11 2.12 2.13 2.14 Justice League takes place [1] "months" after Batman v Superman: Dawn of Justice. This is supported by the film appearing to not be too long after Superman's death, considering the public mourning and the nature of people's discussions about his passing. It occurs after Suicide Squad, as is clear from Superman's mourning (not yet returned) in the film, and the credits scene with Bruce Wayne picking up files on the metahumans he is looking for. Bruce mentions in the film that it is "winter" and in a scene of Justice League, when Barry Allen encounters his father in prison, it's visible a mobile phone with the current date "Fr. January 20", so it can be taken that the film is set approximately 14 months after Batman v Superman: Dawn of Justice, in January 2017.
↑ A clip of the music video is shown during the events of Justice League, which takes place in January 2017: however in our reality it was released in June 2017. It's possible that Flash could have hacked the clip months before its distribution.
↑

Sometimes the DC Extented Universe alludes to events which happened in our world, and it is assumed they happened on the same dates in the universe, for timeline purposes.
External links
Community content is available under
CC-BY-SA
unless otherwise noted.