Cobra Kai Season 4 - The Loop
Play Sound
"Now they worship machines, so I will build a machine that will destroy them all. Build your strength. Feed on them."
2016 was a year of the 21st century.
Events
January
10th
February

4th
El Diablo torches several inmates while in federal prison, prompting a transfer to Belle Reve, where he's put inside a container capable of dousing fire.[3][4]
March
1st
Wesley Rowe, a fake identity used by Barry Allen in 2017, had this date as the license issued date.[2]
5th
6th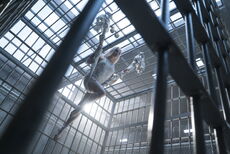 Harley Quinn is arrested for armed robbery and given a sentence of 6 years and 1 month.[4]
April
1st
15th
21st
May
20th
The film The Angry Birds Movie is released.[7]
June
7th
15th
16th
August
4th
5th
7th
8th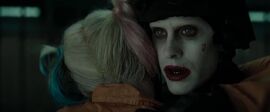 9th
October
7th
"24K Magic" is released by Bruno Mars.[7]
November
12th
13th
14th
15th
30th
December
9th
Andrew Grimes receives an injury in the line of duty on which resulted in a broken collarbone and dislocated shoulder. He had been chasing a suspect down a fire escape and fell seven feet down onto the sidewalk hitting a vehicle that had been parked under the fire escape.[13][18]
12th
29th
Late
"Drag Me Down" is released by Santa Cruz.[20]
Battles and conflicts
Deaths
References
↑ 3.00 3.01 3.02 3.03 3.04 3.05 3.06 3.07 3.08 3.09 3.10 3.11 3.12 3.13 3.14 3.15 3.16 3.17 3.18 3.19 3.20 3.21 3.22 3.23 3.24 3.25 3.26 3.27 3.28 3.29 3.30 3.31 3.32 Suicide Squad
↑ 4.0 4.1 4.2 4.3 Bergstrom, Signe (August 9, 2016). Suicide Squad: Behind the Scenes with the Worst Heroes Ever. United States: Harper Design.
↑ 5.0 5.1 5.2 5.3 Bedard, Tony. Suicide Blonde. DC Comics, 2016.
↑ Hodson, Christina (writer) & Yan, Cathy (director) (February 7, 2020). Birds of Prey (And the Fantabulous Emancipation of One Harley Quinn).
↑ 9.00 9.01 9.02 9.03 9.04 9.05 9.06 9.07 9.08 9.09 9.10 9.11 In Suicide Squad, all of Waller's files in the opening scene bear the date "Jun 15, 2016". It can be taken that this is when Waller is meeting to propose Task Force X, it is June 15, 2016 or a little later. This fits with it being several months after Batman v Superman: Dawn of Justice, which is set in November 2015. There is then a small time gap, and the rest of the film picks up. When Enchantress breaks free, Waller's phone shows "Friday, Aug 5". August 5th was a Friday in 2016 - the same day the film was released. Later in the film, Rick Flag says Enchantress broke free "3 days ago", making it August 8, 2016.
↑ 12.0 12.1 In Zack Snyder's Justice League Bruce mentions his reason for trekking to the Icelandic village: He expected Aquaman to arrive on the king tide, which was the previous night. The only king tide between Superman's death and Steppenwolf's arrival started on November 13th, which means the king tide could only have come the previous day if the present day was November 14, 2017.
↑ 13.0 13.1 13.2 13.3 13.4 13.5 13.6 Cite error: Invalid <ref> tag; no text was provided for refs named ZSJL
↑ Deibert, Amanda. Serving Up Justice, DC Comics, 2021.
↑ The present day scenes of Wonder Woman take place between the events of Suicide Squad, dated to summer 2016, and Justice League, dated to January 2017. The film is therefore placed approximately in fall 2016.
↑ BATMAN OR SUPERMAN? -

LEX/OS TO DRIVE RECORD PROFITS

↑ 18.0 18.1 https://www.icollector.com/Zack-Snyder-s-Justice-League-Gordon-s-Batman-Police-File-A384_i41652947
↑ Gunn, James (writer & director) (January 13, 2022). "Best Friends, For Never". Peacemaker. Episode 2. HBO Max.
External links