"That seems like a slight over-simplification."


---

It is suggested that this article, or a section of this article, could benefit by being expanded upon.
2016 was a year of the 21st Century.
Events
January
10th
Musical artist David Bowie passes away.[2]
February
Capture of El Diablo: Grace Santana discovers the criminal activities of her husband by finding a stash of money and a pair of pistols. The two have an argument, with Grace threatening to take their children away to her mother's. El Diablo loses his temper, which led to him having a hard time controlling his pyrokinesis. This resultes in an enraged El Diablo setting their house ablaze, unwillingly killing both Grace and their children. A devastated, remorseful El Diablo hands himself over to police custody voluntarily.[3]
4th
While imprisoned in a federal prison El Diablo is jumped by several other inmates in the recreational area during a prison riot, prompting him to freak out and torch the entire area, killing those nearby. Deemed far too dangerous for a federal prison, the fiery homeboy is subsequently transferred to Belle Reve, where he was put inside a container capable of dousing fire.[4][3]
March
1st
Wesley Rowe, a fake identity used by Barry Allen in 2017, had this date as isseu license date.[2]
5th
6th
Harley Quinn is arrested for armed robbery, with a sentence of 6 years and 1 month.[4]
April
1st
15th
21st
Musical artist Prince passes away.[2]
May
20th
The film The Angry Birds Movie is released.[7]
June
15th
16th
August
4th
5th
7th
8th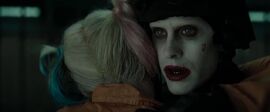 9th
October
7th
"24K Magic" is released by Bruno Mars.[7]
November
15th
December
Battles and Conflicts
Deaths
References
↑ 3.00 3.01 3.02 3.03 3.04 3.05 3.06 3.07 3.08 3.09 3.10 3.11 3.12 3.13 3.14 3.15 3.16 3.17 3.18 3.19 3.20 3.21 3.22 3.23 Suicide Squad
↑ 8.0 8.1 8.2 8.3 8.4 8.5 8.6 8.7 8.8 8.9 In Suicide Squad, all of Waller's files in the opening scene bear the date "Jun 15, 2016". It can be taken that this is when Waller is meeting to propose Task Force X, it is June 15, 2016 or a little later. This fits with it being several months after Batman v Superman: Dawn of Justice, which is set in November 2015. There is then a small time gap, and the rest of the film picks up. When Enchantress breaks free, Waller's phone shows "Friday, Aug 5". August 5th was a Friday in 2016 - the same day the film was released. Later in the film, Rick Flag says Enchantress broke free "3 days ago", making it August 8, 2016.
External Links
Community content is available under
CC-BY-SA
unless otherwise noted.