"Now they worship machines, so I will build a machine that will destroy them all. Build your strength. Feed on them."
2016 was a year of the 21st Century.
Events
January
8th
10th
February

4th
El Diablo torches several inmates while in federal prison, prompting a transfer to Belle Reve, where he's put inside a container capable of dousing fire.[4][5]
March
1st
Wesley Rowe, a fake identity used by Barry Allen in 2017, had this date as the license issued date.[3]
2nd
5th
6th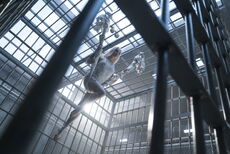 Harley Quinn is arrested for armed robbery and given a sentence of 6 years and 1 month.[5]
LexCorp posts on Facebook: "It is truly fascinating how far we've improved Metropolis over these last few years. The human race is this worlds greatest achievement. A city made great by the people, a city for the people."[2]
10th
13th
18th
21st
LexCorp posts on Facebook: "Have a question? Our CEO Alexander Luthor will be answering question on this page tomorrow- Stay tuned for more information".[2]
26th
31st
LexCorp posts on Facebook: "We do not understand Mr. Luthor's actions and LexCorp does not take responsibility for his actions. Thank you for being patient".[2]
April
1st
4th
5th
10th
LexCorp posts on Facebook: "As you all may have noticed the #lexcorp Instagram account has been taken down. Over the last few days we've noticed a virus in our system that has complete control over our social networking sites. Instead of combatting this we're going to continue making illegal weapons for the military and use our power and influence to take over the world. Because that's what father would have wanted <3".[2]
15th
18th
21st
Musical artist Prince passes away.[3]
May
20th
The film The Angry Birds Movie is released.[8]
29th
LexCorp posts on Facebook: "Alexander Luthor Jr is back! We don't know how or why but his sentence has been drastically reduced. Maybe the court of law realised how magnificent he truly is. Welcome back Mr Luthor".[2]
June
15th
16th
29th
July
7th
LexCorp posts on Facebook: "My father was a man of principles. He lived his life by a set of rules. Which was, ultimately, his downfall. Because without rules, without borders, the end of the universe is the limit. We could do anything. Therefore I am happy to announce that LexCorp will be launching it own privatised Space Programme with the sole intention of exploring the universe. Who knows, maybe we'll find God? Maybe we'll find the Devil? Maybe. In my farther a dying words: Death before Defeat" - Lex Luthor Jr - LexCorp Annual Press Conference.[2]
August
4th
5th
7th
8th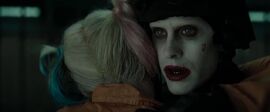 9th
October
7th
"24K Magic" is released by Bruno Mars.[8]
November
15th
December
Battles and Conflicts
Deaths
References
↑ 2.00 2.01 2.02 2.03 2.04 2.05 2.06 2.07 2.08 2.09 2.10 2.11 2.12 2.13 2.14 2.15 2.16 2.17 LexCorp Facebook page
↑ 4.00 4.01 4.02 4.03 4.04 4.05 4.06 4.07 4.08 4.09 4.10 4.11 4.12 4.13 4.14 4.15 4.16 4.17 4.18 4.19 4.20 4.21 4.22 4.23 4.24 Suicide Squad
↑ 9.0 9.1 9.2 9.3 9.4 9.5 9.6 9.7 9.8 9.9 In Suicide Squad, all of Waller's files in the opening scene bear the date "Jun 15, 2016". It can be taken that this is when Waller is meeting to propose Task Force X, it is June 15, 2016 or a little later. This fits with it being several months after Batman v Superman: Dawn of Justice, which is set in November 2015. There is then a small time gap, and the rest of the film picks up. When Enchantress breaks free, Waller's phone shows "Friday, Aug 5". August 5th was a Friday in 2016 - the same day the film was released. Later in the film, Rick Flag says Enchantress broke free "3 days ago", making it August 8, 2016.
↑ The present day scenes of Wonder Woman take place between the events of Suicide Squad, dated to summer 2016, and Justice League, dated to January 2017. The film is therefore placed approximately in fall 2016.
External links
Community content is available under
CC-BY-SA
unless otherwise noted.