We're Getting Mutants in the MCU - The Loop
Play Sound

2013 was a year of the 21st century.
Events
January
20th
June
14th
19th
"Black Skinhead" is released by Kanye West.[5]
24th
July
11th
The film Sharknado is released.[8]
August
29th
October
12th
November
13th
23rd

24th
26th
Clark Kent gets a job as a busboy at a truck stop bar.[9]
Clark overhears a pair of soldiers talking about a discovery made on Ellesmere Island. At the same time one of the bar's patrons, a drunk trucker named Ludlow, begins harassing Clark's coworker, a waitress named Chrissy. Clark intervenes, asking him to leave, but Ludlow proceeds to throw an entire pitcher of beer into Clark's face. As Clark prepares to retaliate, Chrissy instead tells him that it wasn't worth the trouble. Agreeing, Clark begins to leave when Ludlow comments that he'd forgotten his 'tip', throwing a beer can at his back.[9]
While Ludlow is still drinking in the pub, Clark impales his rig on the logs it was carrying.[9]
28th
Lois Lane arrives in a northern region in Canada to investigate a unique discovery that had been unearthed and is currently being kept under-wraps from the public by the military. Lois then meets with Colonel Hardy, Dr. Hamilton, and Officer Sedowsky, who inform her that a mysterious object buried deep within the ice is thousands of years old.[9]
Clark Kent discovers his heritage as Kal of the House of El.[9][13]
Lois Lane, while investigating the spaceship, is attacked and wounded by a Service robot. Clark Kent saves here and takes the spaceship away.[9][13]
29th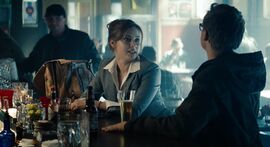 30th
Editor-in-chief of the Daily Planet Perry White refuses to print Lois Lane's Arctic accounts, since the military and Pentagon itself were denying the story even occurred, and Lois has no solid proof.[9]
Lois, not wanting to drop the story of her alien rescuer, seeks out gossip journalist Glen Woodburn to spread the story all over the internet while she retraces the steps of her rescuer.[9]
December
2nd
The animated series Rick and Morty is first aired.[14]
5th
Nelson Mandela dies.[15][5]
10th
Lois interviews Pete Ross, which leads her directly to Martha Kent, where she learns the name of her rescuer.[16]
Lois encounters Clark in the cemetery at the grave of his father, Jonathan Kent, and Clark tells her his story and why he doesn't want it to be told to the world. Lois comes to respect and admire Clark for what he's doing and, full of compassion for him, selflessly decides to drop the story.[16]
12th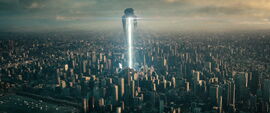 13th
After realizing that the military is spying on him using drones, Superman grabs one and slams it into the ground in front of Swanwick's car before telling him to convince Washington D.C. to trust him and that he's on their side but on his own terms.[16]
TIME publishes an important article regarding the Kryptonian invasion.[20]
Deaths
References
External links